Jenna Dewan Announces Birth Of Son And Shares His Name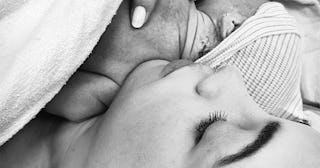 Jenna Dewan/Instagram
Jenna Dewan gives birth to baby boy Callum Michael Rebel Kazee
Jenna Dewan has been documenting her serene pregnancy journey on Instagram for months and on March 10, 2020 the dancer announced to the world that she's a mama for the second time. She and fiance Steve Kazee's son Callum Michael Rebel Kazee was born on March 6, 2020.
"And just like that, our hearts exploded into all of eternity and beyond," Dewan captioned the post. "Welcome to the world you little angel!"
Dad giddily welcomed his son too with a sweet shot holding his child's hand and wrote, "In an instant our universe burst wide open and nothing would ever be the same. Welcome to earth star child."
Callum Michael Rebel is Kazee's first child and Dewan's second, joining big sis Everly, whom Dewan shares with her ex-husband Channing Tatum. Perhaps in an attempt to catch up those who missed the memo, Kazee jokingly commented on Dewan's baby announcement, writing, "Who's the daddy?"
Kazee and Dewan have been gushing over one another on Instagram non-stop since the end of 2018 when they first made their relationship Insta-official.
Since then, we've enjoyed catching some second-hand swoon via their lovely social media posts.
Congratulations to the happy couple and we hope to see way more of baby Dewan-Kazee very soon.