Jenna Dewan Felt 'Blindsided' By Channing Tatum's New Relationship
by Madison Vanderberg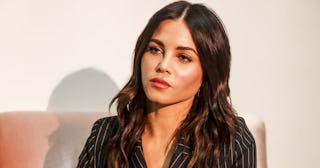 Kelly Sullivan/Getty
Jenna Dewan describes the moment she learned that Channing Tatum was dating Jessie J in her new book
Jenna Dewan and Channing Tatum split in April 2018 after more than a decade together and though the world was shocked to learn that their favorite dancing duo had gone their separate ways, both Dewan and Tatum spoke lovingly about each other publicly and supported each other in their respective new relationships. However, in Dewan's new book, Gracefully You: How to Live Your Best Life Every Day, she gets real about what it actually felt like when she found out online that her ex-husband was dating the singer Jessie J.
"Not only was I fighting an emotional battle of having to let go and move forward in my life, I was learning things about my ex most people wouldn't have to face — and over the internet, as it was happening," she wrote in her book, as excerpted by Us Weekly. "There I was, on a plane, alone, finding out about his new relationship. I felt blindsided"
She added that it was really "difficult" to learn "everything about my personal situation along with the rest of the world."
The book promises to be an "uplifting message of how to elevate your life and experience beauty every day," and yet, Dewan does not shy away from the gritty details of her divorce either.
When Dewan and Tatum split up, she didn't tell any of her coworkers at World of Dance, citing the need to "focus on my work when at work." Unfortunately, it didn't play out like she expected.
"People in the World of Dance audience would ask, 'Where's Channing today?' or 'When are you two going to dance together again?' I had to play these questions off while grappling with the truth of what was happening," she wrote. "The public saw Channing and me in this idealized, romanticized light… Let me tell you firsthand, when it comes to the lives of celebrities, a picture never tells the whole story. Everyone struggles. Every couple has their issues, celebrity or not."
She hinted at some of those struggles and wrote that she and Tatum knew the relationship was over when Dewan came "to realize the dynamic I was in wasn't serving me nor was it serving my daughter. First and foremost I had to accept the realization this isn't working and had moved into hurting."
Six months after the split, Dewan found love again with Steve Kazee, who she is now expecting a child with.
https://www.instagram.com/p/B37CIpRBFX8/
"When I was ready, I started dating someone amazing," Dewan added. "It was this cosmically great thing where we circled back around each other after a moment of instant recognition years ago. Those stories you hear of seeing someone and feeling an insane remembrance that just sticks with you? Well, I had it happen, despite the odds."
We respect Dewan for being so vulnerable in her book, it takes courage. Congratulations to her on her new love and happy baby news.