Jenna Dewan Opens Up About Life Post-Split And It's Inspiring AF
by Thea Glassman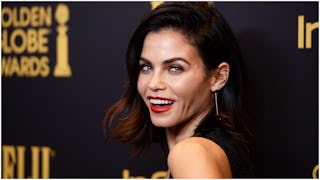 Image via Matt Winkelmeyer/Getty
Jenna Dewan got candid about life after Channing Tatum
When Jenna Dewan and Channing Tatum announced they were splitting up, hearts across the world broke a little (okay, a lot). We're starting to hear little bits and pieces from Dewan post-split, and thankfully it sounds like things are slowly getting better. In fact, based on a recent interview with Harpers BAZAAR, the dancer/actress/TV host is actually going through a really important moment of self-growth.
Basically, Dewan is figuring out who she is right now. And that exploration has literally nothing to do with Channing Tatum. "The moves I'm making are completely not related to my marriage or separation, interestingly enough. I was always very happy being a wife," Dewan said. Right now she's asking herself: "'Who are you? What do you want to give to the world? What excites you?'… I really wanted to expand my life, and myself. And that was my journey, no one else's."
So, where's that journey taking her? She's currently the host of the NBC show World of Dance AND starring in the upcoming movie Berlin, I Love You, alongside Helen Mirren and Keira Knightley. Yup, Jenna Dewan's period of exploration is better than all of our periods of explorations combined (I usually just get a semi-edgy haircut).
Also, her dancing somehow looks even more like a damn dream.
Dewan touched on her newly single life as well, and had a very inspiring outlook on the whole thing. "I feel a sense of joy and freedom and excitement, truly, about a new chapter in my life," she said. "And I have no attachments to how that's going to look, or what that's going to be. I feel really open, and I feel hopeful."
She said that her and Tatum are still "getting used to" the whole co-parenting thing, but they're getting there. "We're in a very positive energy together, trying to be the best parents to Everly," Dewan explained. "We support each other."
Okay, so obviously this is a public interview and she's definitely not going to tell the whole world if she and her ex-husband are struggling and fighting and confused, but still. Everything she's saying sounds so positive and optimistic and healthy.
It's probably a lot to ask, but it would be great if Jenna Dewan could just become everyone's life guru/fitness coach/dance instructor/close personal BFF. The world might be a wee bit of a better place.