Jenna Dewan Announces Engagement On Insta And Flashes Her Beautiful Ring
by Cassandra Stone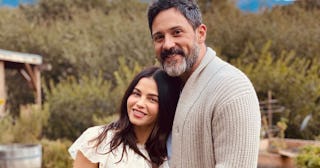 Steve Kazee/Instagram
Jenna Dewan announced her engagement to Steve Kazee in the most adorable way
Just weeks shy of welcoming their first child together, Jenna Dewan and Steve Kazee have announced their engagement on Instagram, complete with stunning pictures and — of course — a glimpse of the huge rock now making itself at home on Dewan's left hand.
RELATED: 20 Engagement Gifts That Stand Apart From Bridal, Bachelorette, Or Bachelor Presents
The dance pro, actress, and host shared the happy news on her Instagram account: "A lifetime to love and grow with you…you have my heart."
According to E!, Dewan's engagement ring — a not-at-all-small-but-still-tasteful oval cut diamond — is about 2.5 carats in a yellow gold pavé halo setting. The sparkler was designed by Dewan's friend, actress and jewelry designer Nikki Reed, who shared the news on the Instagram page for Bayou With Love, her jewelry line.
"An honor to be a very small part of this special moment," Reed wrote on Instagram with the photo of Kazee, Dewan and her engagement ring. "I love you both, and all I can say is your love is pure magic. And I might be biased, but that ring is gorgeoussssss!"
"Steve," Reed continued, "making this with you was such a beautiful experience. Thank you for loving Jenna the way you do."
The news of Dewan's engagement comes a few years after she and Channing Tatum, her ex-husband and father to daughter Everly split up. She admitted last year that breaking up with her longtime love wasn't easy, especially in the public eye.
"Not only was I fighting an emotional battle of having to let go and move forward in my life, I was learning things about my ex most people wouldn't have to face — and over the internet, as it was happening," she said at the time. "There I was, on a plane, alone, finding out about his new relationship. I felt blindsided."
For his part, Tony Award-winning actor Kazee seems to be an absolutely smitten kitten. He regularly shares shout-outs to Dewan and doesn't hesitate to let the world know how much he loves her. He even admits his page has turned into a "Jenna Dewan fan account now."
"That reason is that I constantly watch with absolute awe as she has carves her path through this world and all the while she does it with a level of grace that we should all aspire to," he recently shared.
Dewan appears to feel the exact same way about him — you can practically feel her eyeballs turning into hearts at times.
"You flew into my life like a rocket, lit it up beyond what I could've expected or imagined, and every day I am in awe over the love, care and nurture you show me, Evie and everyone around you," she wrote on Valentine's Day. "I've told you a thousand times and I'll tell you again..Thank you for finding me i am the luckiest girl alive."
Congrats to the happy couple and parents-to-be!
This article was originally published on