Jenna Dewan Was Mommy-Shamed For Posting This Picture On Instagram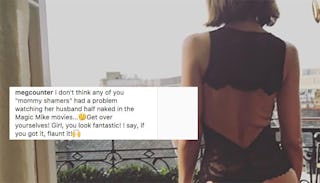 Image via Instagram
The mom shamers came for Jenna Dewan Tatum, and she had the best response
Jenna Dewan Tatum is best known for a few things: her amazing dance talent, her adorable mom stories, and her bangin' body. Oh, and for being the other half of a gorgeous Hollywood power couple. It's her body that has the actress in hot water with a few jerks on the internet this week, because haven't you heard? Moms aren't allowed to show off their sexy bodies, or else they're bad moms.
Eye roll.
Dewan Tatum took to Instagram this week to share a god damn incredible photo of her god damn incredible butt in sexy, black lingerie.
Is she even kidding with how fantastic she looks? We're the same age. I'm stunned. I'm in awe. I'm questioning my current gym routine. I'm a lot of things, but you know one thing I'm not?
Jealous. Or judgmental. Or hateful. OK, that's three things, but stay with me.
While the photo was mostly well-received with fans leaving complimentary remarks about how amazing Dewan Tatum looks, there were some who felt that the actress' naked booty is only for her husband, Channing Tatum, to gaze upon.
I think a woman keeps her attributes for her husband between closed doors. Nobody should have the right to see our nakedness, it's not only sad to see so many women on billboards or tv commercials, on the streets and at our cities. But women who know their value are conscious of how they show themselves. A woman who shows her body this way shows that she needs validation and is looking for attention that isn't given at home. That's my honest opinion. Please wear clothing next time and dress accordingly, and leave for Channing's eyes what belongs to him alone.
Others clutched their pearls because she's a mom, and apparently that means she's lost the right to show the world her phenomenal body.
Sorry, but if one of my parents posted half nude pictures of themselves online I would be pretty ashamed and embarrassed.
And some worried about what she's teaching young girls, as though posting hateful and judgmental comments on the internet is the better example to follow.
Not flattering to you as an intelligent woman. You look great but don't need to model objectifying your body parts on IG — or teach young girls to garner attention by sexual images of themselves.
Speaking of her husband, you might know him from his movies about male strippers, Magic Mike and Magic Mike XXL, or maybe from his Las Vegas Magic Mike Live strip tease show.
But where are the comments admonishing him for showing the goodies to women other than his wife? Where's the condemnation for him performing as a stripper in front of millions even though he's a father?
Oh. Right. There aren't any. Because only women are expected to shed their sensual and sexy side once they become a parent. The labor nurses at the hospital might as well hand you a giant sheet to wear from here on out, because according to some, moms aren't allowed to be publicly proud of their bodies.
And by the way, one look at his Instagram proves Tatum is very much OK with the public getting an eyeful of his stunning wife in a state of undress. He's obviously proud of her, just like she's proud of herself — and she should be.
https://www.instagram.com/p/BPBz_c9hHJU/?hl=en&taken-by=channingtatum
After the hateful comments, Dewan later posted a quote reminding her followers that women should be supportive of each other instead of calling one another out.
Her caption reads, "To all the strong women out there. May we be them, may we know them, may we raise them. Rise above judgment and step into love."
Nailed it.