Watch Jenna Dewan Tatum And Channing Tatum Meet Each other In 'Step Up' Audition Tape
by Thea Glassman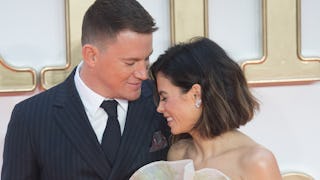 Image via Samir Hussein/Getty
Jenna Dewan Tatum and Channing Tatum are forever goals.
Jenna Dewan Tatum and Channing Tatum are the sort of couple you really want to hate. They're both ridiculously, insanely beautiful, their chemistry is literal fire, and when they dance together it's pretty much the sexiest thing you'll ever see. And YET they're so lovely and down-to-earth that you can't bring yourself to feel even one ounce of hate or jealousy (well, maybe a little jealousy).
Case in point: footage from the first time the two met has been released, and it is contains some of the cutest, most awkward flirting you will ever see.
In case you haven't been following the Tatum/Dewan Tatum love story, the two met while filming the dance drama Step Up, fell for each other, got married in 2008, and now have a four-year-old daughter. But back in 2005, they were just two young actors, having a delightful meet cute while auditioning for Step Up. There was lots of laughter, lots of touching, and a whole lot of salsa dancing.
"It's really cute, and also embarrassing, and crazy but of course I want to share it with all of you," Dewan Tatum said when she posted the video on YouTube. "Please watch how many times I giggle and laugh, it's very cute…it's very sentimental and amazing for me to watch."
The couple have continued to be the definition of #goals since that first ultra-flirty audition. If you would like proof, look no further than their Instagram accounts. Nudity is often involved because, hello. Would you wear clothes if you were them?
https://www.instagram.com/p/BcRgBwPhSKd/?hl=en&taken-by=channingtatum
https://www.instagram.com/p/BHvgSHVBFHW/?utm_source=ig_embed
Nope. Not jealous at all.
Dewan Tatum has been very open about her relationship — from their sex life (it's great) to the problems they've encountered along the way.
"You change when you're together from 25 to 35. I think maybe in my early 20s, I might have tiptoed around issues or didn't want to make too many waves," she told Redbook. "Now it's like, 'This is how I'm feeling.' You have to be okay with the other person becoming defensive, to let them be emotional and accept that it won't be okay for a while."
*Sigh.* Time to go rewatch Step Up and feel all the feelings.