Jenna Dewan Tatum Gets Some Epic Dance Instruction From Toddlers
by Maria Guido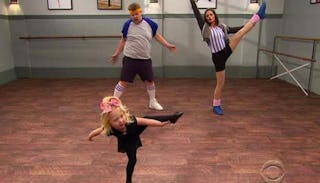 James Corden and Jenna Dewan Tatum take dance classes from toddlers
Thank God for DVRs. The Late Late Show with host James Corden is the best thing to happen to late night TV in a long time. The comedian/writer/talk show host brings the funny out of every celebrity he has on the show. You may have seen his famous Carpool Karaoke clips (Adele's was epic). This week he invited Jenna Dewan Tatum on the show for some… dance lessons.
From toddlers.
"You know that dance is my life," Corden says to Dewan Tatum. "Question is, are you ready to take a class with the harshest, toughest group of choreographers in all of Los Angeles?"
"Then it's time for Toddlerography."
Set to the tune of Sia's "Alive," Corden and Dewan Tatum follow their pint size instructors' leads. Proving once and for all that toddlers really do have this interpretive dance thing down. Toddlers know the secret: anyone can dance. You just have to feel it.
It's no secret that moms everywhere have a crush on Channing Tatum, but after watching Dewan Tatum mock her husband's Magic Mike character on Celebrity Lip Sync Battle a few weeks ago, and now this epic performance, she may actually be leading in the "mom crush" category.
Sorry, Channing.
This article was originally published on