Real-Life BFFs Jenna Fischer And Angela Kinsey To Host A Podcast About 'The Office'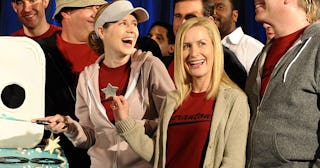 Jason LaVeris/FilmMagic/Getty
Jenna Fischer and Angela Kinsey are going to host a podcast and fans of The Office are going to flip
If you, like me, wind down each night to two episodes of The Office, then this news is for you. The Office stars and real-life best friends Jenna Fischer and Angela Kinsey (aka Pam and Angela) are hosting a new podcast where they break down every episode of the office and generally reminisce about the show.
The show was popular when it aired on NBC in the early aughts, but most people have gotten into the show via Netflix in the last few years. The Office is set to leave Netflix at the end of 2020 and although the fans want a reboot, it doesn't seem like one will ever happen, so Fischer and Kinsey's podcast is right on schedule to slide in and fill that Dunder Mifflin-shaped hole in our hearts.
Each week the women will dive into a new episode of show and share behind-the-scenes trivia and stories about the series. Earwolf is producing the pod, which is being called "Office Ladies," though it totally should have been called "The Party Planning Committee," but whatever.
"As we close in on the 15th anniversary of the show, it seemed like a great time to share our stories and behind-the-scenes trivia with fans," Fischer said in a statement (via CNN). "Besides talking about The Office, you can also hear us chat a little about our lives, our Target runs together, our friendship through the years."
Our faves talking about friendship, Target, and The Office? Sign us all the way up.
"The Office was such an amazing chapter of our lives and it means so much to us that we get to share some of our memories of filming it with our audiences," Kinsey added.
These two are always happy to reminisce about The Office. Fischer and Kinsey do this thing called The Dundies Tribute Sale where they sell t-shirts with Dundie Award superlatives like "Whitest Sneakers Awards" (shoutout Season 2, episode 1!), and proceeds from the sales benefit different charities.
We're certain that Office fans will want to hear all the secret insight from the ladies as they relive each episode over again. Plus, actors hosting podcasts about the shows they used to be on is very much a thing right now. Joshua Malina, who appeared on The West Wing, currently hosts the podcast "The West Wing Weekly" where he breaks down every episode of the hit NBC drama.
"Office Ladies" the podcast premieres October 16, 2019 wherever you get your podcasts.