Jennie Garth Says '90210' Taught Her To Be 'Threatened By Other Women'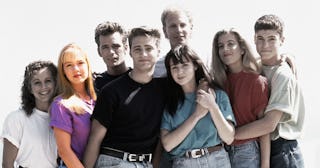 Scary Mommy and mikel roberts/Sygma/Getty
Garth describes the time as being "a different time and place with a lot of mixed messages for young girls."
Girlhood is a beautiful thing. It's a time when young women learn about themselves, the world, and the place they wish to carve out in it. It's also a time when preconceived notions of what others believe womanhood should be (cough…men….cough) can settle into the back of girls' brains and set up camp.
And so it was with Jennie Garth, who recently admitted she struggled with a competitive attitude towards other women "for many years" after her time on the Beverly Hills, 90210 set. The show originally aired from 1990 to 2000.
https://www.instagram.com/p/CF7evx6g5Nc/
"A lot of what happened on that set shaped us in all directions," Garth disclosed on Monday's episode of her and costar Tori Spelling's 9021OMG podcast, People reports.
"But I think as a young girl… [the show] brought out a super competitive part of me being in that environment of being judged because of my looks or how I looked in an outfit," continued Garth, who played Kelly Taylor on the hit '90s teen drama.
The actor went on, "It was just a different day and age and it gave us young girls a lot of mixed messages. I, for many years, struggled with [it]."
Garth recently posted a throwback pic from the 90s to Instagram. "The eyebrows, the leather pants, the striped hair, the choker…Thank you 90's," Garth captioned the photo. "Sneak peek inside my old closet."
https://www.instagram.com/p/CNc4TFUFyG6/
The 9021OMG podcast explores everything from fame to agoraphobia. Garth posted a sneak peek into a November 2020 episode on Instagram. "She stole everything…including Steve. Clepto, nympho, all the O's" -Kelly Taylor. This week on @9021omgpodcast we talk about shoplifting, how agoraphobia leads to rug hooking, and why wasn't Donna in this episode?! (hint:👃🏼) ," Garth captioned the pic. "Also, we touch on what it was like to become famous so fast and so young, and the impact that had on some of us. Oh, and nose jobs. We talk way too much about those🤣""
https://www.instagram.com/p/CIOJ76jApCo/
Garth admitted on the 9021OMG podcast that she felt "threatened" by her costars at the time.
"If I'm honest, I think [the show] kind of taught me to be threatened by other girls be threatened by other women [and] be more competitive because I wanted our costars approval or attention," she said.
While Garth now seems to have worked through those feelings, the thoughts continued to haunt Garth, who returned to her character on both the 90210 spin-off and the reboot BH 90210.
https://www.instagram.com/p/CCgwH5aAADZ/
"It messed with me on a deeper level and not until later in life that I kind of think it wasn't ever about the other girls," Garth said on the podcast. "And why did I ever make the other girls an enemy in my mind?"