Jennie Garth and Peter Facinelli Are Engaged—But Not to Each Other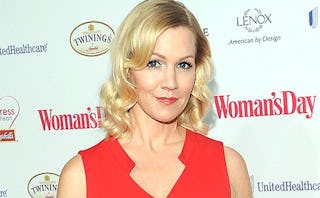 Jennie Garth's engaged, you guys! And you know how the 90210 alum met her fiancé, actor David Abrams? On a blind date. I know. I wasn't sure if those things still existed either. But apparently a friend offered to set them up, and instead of being all "I choose me" about it, Jennie decided to take the leap and actually go. Whether or not she Googled the guy first is up for debate, but my money's on like, duh.
If she did, she would have learned that he was in the movie J. Edgar with Leo back in 2011, the same year he had a leading role in something called The Hike. Never heard of it? Me neither. Abrams also did some commercial work for products like Oscar Meyer and Lady Speed Stick, so there's that. Maybe Jennie didn't Google him after all.
Anyway, the two have been dating since last fall, but did not go public with the relationship until January. Meanwhile, Garth's ex-husb Peter Facinelli—to whom she was married for 11 years—also just got engaged. He proposed to former co-star Jaime Alexander last month in New York on top of the Empire State Building. Which is such a cliché. But then again so is ending your marriage by having an affair with your costar, right?
The timing of Jennie's engagement has some people chalking the whole thing up to a case of he did, so she did. My take? So what? Abrams is cute, Jennie looks happy and she's got an awesome new black diamond punctuating her ring finger. And while I can't help but wish that off in a parallel universe somewhere Jennie is happily married to Luke Perry—Kelly and Dylan Forever!—I can't wait for her to make her third march down that aisle. And not just because Facinelli famously broke her heart into a bazillion little pieces, but because I totally hated that weird pineapple thing she had going on with her hair the day she married him. I may or may not have copied and ordered her exact same wedding band though.
This article was originally published on