Letterman Sucks On Jennifer Aniston's Hair In Disgusting Resurfaced Interview
by Kristine Cannon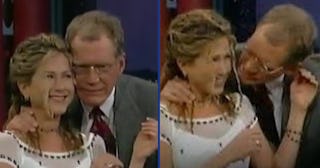 ceci3bueno/YouTube
What the hell did we just watch?
Since the release of the Framing Britney Spears documentary, a handful of old creepy, disgusting late night interviews have resurfaced, showing the hosts, including former garbage Late Show host David Letterman, treat female celebrities with absolutely zero respect. Last weekend, a 2013 interview with Letterman and Lindsay Lohan went viral on TikTok and Twitter, prompting viewers to call out the host for probing into her personal life; and this weekend, another interview is making its rounds, this time with Jennifer Aniston and, again, Letterman. And believe us when we tell you, it's beyond disgusting.
In the 1998 interview, Aniston's there to promote her film The Object of My Affection, and as she's sharing a story about running into fans into her gym's steam room, Letterman — and fellow skeezy men in the audience — begin drooling at the mouth at the thought of naked women.
"So, these babes come in [the steam room], they're naked as well?" Letterman asks an uncomfortable Aniston, who begins nervous-laughing. "How many are there?" Letterman then asks, as creepy dudes in the audience laugh with him.
"And they're all really sweaty??" Letterman presses.
"Heheheheh," he laughs.
As uncomfortable as the exchange is, it isn't even the worst part of the interview.
Letterman later scoots his chair behind Aniston's and tells her, "Forgive me if this is rude, I just want to try one thing."
"What are you doing?!" she screams. And after several attempts, he succeeds in placing some of her hair into his mouth and sucks on it — sucks on it. At this point, we — and all viewers of the resurfaced clip — are appalled.
Aniston played along, though, laughing through it; but when Letterman hands her a tissue, she — clearly digested — then dried her hair of his spit and and put the tissue in her pocket.
Now, no one's OK after watching it.
Another Letterman interview has also made its rounds since the old Aniston interview went viral: his interview with Janet Jackson, during which he relentlessly pressed Jackson about her infamous Super Bowl performance.
In the 2004 Late Show sit-down with Jackson, Letterman refused to move on from her infamous Super Bowl performance, and it was uncomfortable to watch, to say the least.
"Welcome to the show," Letterman begins. As Jackson settles into her seat, Letterman immediately points to her top and says, "Now, that's almost malfunctioning, isn't it?"
"Let's run through this," Letterman continues. "Tell us exactly what happened from the time you got up on Super Bowl Sunday to the time the episode took place on the halftime show," to which Jackson responds, "I don't want to relive any of that."
But Letterman doesn't let up.
"You don't mind if I ask you some questions about it, though? First of all, you knew it was going to happen, right?"
"Oh, god can we talk about something else, please?" she responds. "I've had a day of interviews. I'm sure you guys are sick of hearing about it, I know I am. Ask me about something else."
"[Timberlake] grabs at a woman — you — and he pulls her thing off," Letterman tells her. "That sends a very bad message to young boys in this country: that you go up to a woman, even under the guise of a show business production, and pull her thing off. You're not supposed to behave that way."
The whole exchange is truly appalling.
Twitter user @ryancortezz posted the old video on his feed, saying, "This gives off the same vibe," in reference to the aforementioned Lohan-Letterman interview. "I don't know how he gets away with it."