Jennifer Aniston's First Instagram Was A 'Friends' Selfie That Broke The Internet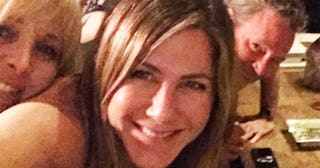 Jennifer Aniston/Instagram
Jennifer Aniston is fashionably late to the Instagram game but made a big entrance
Jennifer Aniston just joined Instagram and fans are super pumped. Obviously! In fact, they are so pumped, they actually broke Instagram by herding to follow her so damn quickly. The Friends actress had never been enthusiastic about sharing on social media, but when she finally took the plunge, nearly 225,000 fans rushed to follow her. And then, Instagram broke for a while as a result.
Last night, a rep told Page Six, "We are aware that some people are having issues following Jen's page — the volume of interest is incredible! We are actively working on a solution and hope to have the page up and running smoothly again shortly."
Thankfully, the post is now back up for all to see and follow along. And it's all very exciting. As Chandler would say, "could we be any more excited?" No. No, we couldn't.
To make this even better, Jen surprised everyone by making her very first Instagram post a photo of the Friends cast with the caption, "And now we're Instagram FRIENDS too." Her bio adorably reads "My friends call me Jen."
AND NOW WE CAN ALL BE HER FRIENDS.
Of course, Jen isn't the first of the cast to join Instagram. Courtney Cox has long been a part of the social media world, sharing cute snaps of her family and cast reunions from time to time. Jen, on the other hand, had long been skeptical about social media but it looks like she finally had a change of heart and joined up.
If you can't beat 'em, join 'em!
While Jen already has loads and loads of followers, she is currently only following 83 accounts, including her estranged husband, Justin Theroux.
We can't wait to see what else Jen will share. Seriously though, no matter what it is, people are going to be thrilled to follow along. More reunion shots with the Friends cast? New film projects? Pics of whoever her new man of the moment is? Her workout or skin care routines?
Give us all the Rachel, please. This is way past due, very awesome, and totally worth the wait.