Jennifer Aniston's Before And After Pics Remind Us She Does Not 'Wake Up Like This'
by Leah Groth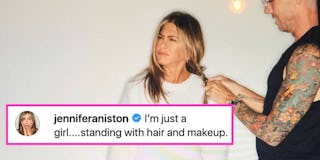 Jennifer Aniston/Instagram
Jennifer Aniston used her new Instagram account to issue us a self-confidence boosting PSA
Last week, Jennifer Aniston broke the internet when she finally, after a million years, decided to bless us with her presence on Instagram. Her first post was a totally clever Friends reunion snap, featuring the entire gang from the legendary sitcom. Each of her posts and stories since have been totally hilarious and on point. Seriously, the woman is even funnier than we could have imagined. On Monday she struck gold on the 'Gram again, sharing a totally transparent, behind-the-scenes look at what it takes to get her glammed up for the pages of a glossy magazine.
"I'm just a girl….standing with hair and makeup. A stylist. A photographer. A lighting crew, wind machine, props, and a computer …. asking you to think I woke up like this," she captioned the photo of herself, making a funny face as she is being primped by her extensive glam team.
Aniston then showed the final product — a totally chic image of herself in all-white, tipping her hat.
See, people? Even the crowned winner several times over of People's "Most Beautiful" honors doesn't wake up looking like a movie star.
In less than a week, Jennifer has amassed over 15 million followers on the social media website and her numbers are growing by the day.
She herself even poked fun at her "breaking the internet status."
One of the main reasons we love Jen is because she keeps things very' real. While she manages to keep her personal life on the DL as much as she can, she is always the first person to remind us that she is only human. One of our favorite flashback Jen moments occurred in 2016, after suffering years of public scrutiny due to her child-free status.
"If I am some kind of symbol to some people out there, then clearly I am an example of the lens through which we, as a society, view our mothers, daughters, sisters, wives, female friends and colleagues," she wrote in a Huffington Post essay, detailing the absurdity of putting reproductive pressure on women. "The objectification and scrutiny we put women through is absurd and disturbing. The way I am portrayed by the media is simply a reflection of how we see and portray women in general, measured against some warped standard of beauty."
"We don't need to be married or mothers to be complete," she continued. "We get to determine our own 'happily ever after' for ourselves."
Aniston, who is currently embracing her single status after splitting from Justin Theroux, concluded by asserting that people are "complete" regardless of their relationship or child status.
"We get to decide for ourselves what is beautiful when it comes to our bodies. That decision is ours and ours alone. Let's make that decision for ourselves and for the young women in this world who look to us as examples. Let's make that decision consciously, outside of the tabloid noise."
Jen, keep those Instagram posts coming. We look forward to all the laughter-inspiring, thought-provoking, and simply brilliant knowledge you are going to drop on us.