Of Course Jennifer Garner Decorated Her Chicken Coop For The Holidays
by Julie Scagell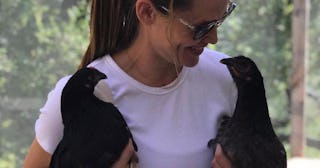 Instagram/Jennifer Garner
Jennifer Garner isn't about to leave her chickens out of the holidays
If you don't follow Jennifer Garner on Instagram, you really should. Her account is the purest, most wonderful place to visit, much as I'd imagine hanging out with her to be. The self-described "chicken lady" wanted to make sure her brood were getting into the holiday spirit so she decorated their coop as only she could.
"My ladies wanted me to relay: their halls are bedecked," the actor wrote underneath a photo of the coop. Also on the coop were adorable signs reading "The Lair" and "Fresh Eggs" and it honestly looks inviting enough for humans to sleep in.
It's no secret how much Garner loves her chickens. She regularly posts about them and shares their goings-on via Instagram. She first introduced us to her hen Regina George in 2017 shortly after joining the social media platform. "If there isn't a Chicken Lady Day, there really should be. Man, my life gets more exciting all the time," the mom-of-three wrote next to a picture of her casually walking Regina on a leash. "Meet one of our ladies, Regina George. Regina loves long walks, dehydrated bugs, and kale. Regina hates….carbs."
She also introduced us to her black-feathered hen named Hennifer, which is quite possibly the best name for a hen, ever. It's clear she is an animal lover and wants them to have the best life ever.
Honestly, anyone who takes the time to both film and set their chickens to music (and Lizzo at that) is okay in my book. "Kartoshka is getting ready for the weekend with her ladies," she captioned the video.
The Alias star often lets us into the fun parts of her life. Whether it's her son renaming all her spices (it's clear he gets his sense of humor from her), or just casually waiting for her kids at the bus stop in her bathrobe, her down-to-earth personality draws you in and makes you feel like part of her family.
If humans are going to be celebrating around the Christmas tree on the inside of the house, her chicks will be partying in back with some sweet lights of their own.