Jennifer Garner Embarrasses Her Son For His Birthday In The Best Way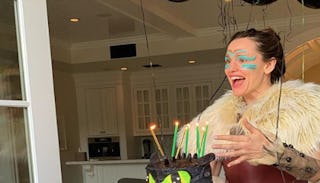 Image via Instagram/Jennifer Garner
Is there anything not lovable about Jennifer Garner?
Jennifer Garner is the epitome of everything you'd either want in a mother yourself, or a mom best friend. This is evidenced most recently by her absolute delight in dressing up for her son's 7th birthday party — much to her son's chagrin. And it's great.
She shared a photo from the party that shows, quite clearly, the How to Train Your Dragon theme. It also shows Garner in full costume, dressed head-to-toe as the character Astrid from the film.
https://www.instagram.com/p/BucO-F_Fwx0/
"Well, guess what. It turns out 7 is the age my kid stops thinking it's cool when I dress up for the party. #youngestchild #firsteyeroll🙄#anyoneneedanAstrid"
Her 7-year-old son Samuel might not think it's cool, but uh, the rest of us are absolutely on board for this perfect execution of costumery and dedication to your child's birthday theme. The most I've ever done is buy a coordinating t-shirt for whatever kind of party my daughter asks for. This is balls-to-the-wall creativity, right down to the adorable Toothless cake. And we appreciate it all.
Garner is also mom to 12-year-old Violet and nine-year-old Seraphina, and she shares all three children with her ex-husband, Ben Affleck. While her Instagram presence is hands-down adorable and regularly updated, she doesn't really share photos of her kids. Which is completely understandable, given her superstar status.
But we did catch a rare glimpse of her incredibly adorable family when she received her star on the Hollywood walk of fame last summer.
I mean…OMG. THOSE CHILDREN. Have you ever seen such a beautiful mother and beautiful children?
Okay, so most mothers can't exactly relate to having all of Hollywood come out to honor your achievements in the film industry. This is true. But you know what we can get behind? Pretty much everything else about Jennifer Garner. And especially what she shares on social media.
Check out this video of her tackling her junk drawer, Marie Kondo-style.
https://www.instagram.com/p/BstFkRDFdTR/
"Silken Mist? Why do I have these?" How many of us have said that exact same thing anytime we pull out a pair of never-worn, torturous pantyhose from a random drawer in our bedroom? Like…why? Unless you're a flight attendant or a member of the royal family, you probably don't need to hang onto those L'eggs. Or, if you're Jennifer Garner, that rain bonnet. LOL.
Also? Jennifer Garner might have actual superpowers, because she once got INA GARTEN to stoop to eating In-N-Out.
https://www.instagram.com/p/BrD8Bd0l_t3/
Not carefully cultivated, grass-fed, Hamptons beef on a lightly toasted brioche bun served with fingerling potatoes. We're talking full-on fast-food deliciousness with the Barefoot Contessa herself.
Is there anything Garner can't do? Please, Jen, call us up anytime. We'd love to be your bestie.