Jennifer Garner's Warning To New Parents: 'It's Going To Suck'
by Valerie Williams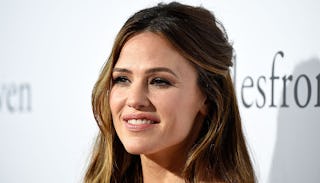 Image via Frazer Harrison/Getty Images
Jennifer Garner gives Seth Meyers parenting advice we all should listen to
Between her on-point rendition of "Go the F**k to Sleep" and recent admissions about life post-Ben Affleck, Jennifer Garner has swiftly became everyone's favorite celebrity mom. She is as honest and real as it gets in Hollywood and basically, we all want her to join our play group. But since that can't happen, at least we can listen to her fantastic parenting advice, like the little truth bombs she dropped on "Late Night With Seth Meyers" this week.
Meyers and his wife are about to welcome their first baby and to that end, the host was curious what Garner, a card-carrying mother of three, had to say. Her response was pretty much dead-on. "As much as you think that, 'OK, I'm going to follow what this person says, I'm going to follow what that person says, I'm going to read this book and I'm going to have this birth plan, it's not up to you, dude."
Can we get an Amen?
Having very few expectations going into it is probably one of the best things a new parent can do. So many head into this gig thinking they're in full control, that they can dictate who it'll all go. You might have been one of them when smugly pregnant with your first child. It's so easy to judge from that comfy spot of having never been in the trenches thinking, "Well, it won't be like that for me."
But guess what? It so will. It like, super will.
You want to wear your baby everywhere? Co-sleep? Breastfeed for two years? That's nice. But remember that your baby might fuss in every carrier you try. You could discover that they sleep more comfortably sprawled in their crib alone. They might develop a love affair with the bottle at daycare and refuse to nurse anymore.
You can have the best intentions. You can make plans and have an idea of what kind of parent you want to be, but it could all be shot to shit. Because as the wise sage Jennifer Garner reminds us, it's not really up to us.
Meyers went on to ask if Garner had read any parenting books and while she admitted she had, she tells him, "I did it all, but it doesn't matter. Let it go, don't worry about it." She tells the expectant father, "You're going to struggle. It's going to suck just like for everyone else."
Truer words were never spoken. Every new parent can expect to face a whole host obstacles, most of which they'll never see coming. But like all other parents before you, you bend and adapt and find ways to survive — and eventually, thrive. Everyone figures it out and the reality of parenthood won't even remotely resemble what you had in mind.
And that's totally OK.
H/T HuffPost Parents