Jennifer Garner Finally Joins Instagram With Adorable Video Message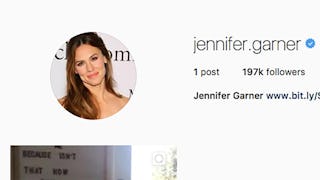 Image via Instagram
Garner's first Instagram post is, of course, super cute
Jennifer Garner, also known as our favorite, most adorable, down-to-earth celebrity mom, has finally joined Instagram. And because we all love watching Jennifer Garner do adorable, down-to-earth, celebrity mom things, we shall rejoice.
In her first post, Garner shared a cute video to introduce herself to the Insta sphere.
"I am officially on Instagram!" she captioned the video, which shows Garner rearranging letters to create a new letter board message.
LOL. We love it already. And so do the 200,000 new followers she's acquired, because she's awesome.
It seems like it's getting harder and harder for celebrities to avoid the pull of social media. It's the easiest way to have control over their brand and messaging, while offering a direct connection between celebrities and their fans.
Earlier this year, Garner took to her Facebook page to confront an cover story People magazine wrote about her without her permission. While she acknowledged it wasn't a "tragedy by any measure" for an outlet to do something like that, she said "it does affect me and my family."
Perhaps Instagram will prove to be a fun outlet for Garner (not to mention all of us) where she can share the stories she chooses.
Because whether she's reading our favorite children's bedtime story (you haven't lived until you've heard her read Go the Fuck to Sleep) or being brutally honest about new parenthood, one thing is for certain: we love Jennifer Garner.
And we will absofuckinglutely follow her on Instagram.
This article was originally published on