Jennifer Garner Makes Rare Public Appearance With Her Kids For Her Walk Of Fame Star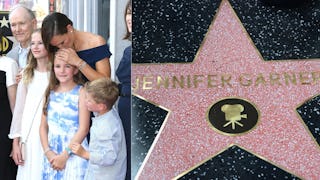 Image via Steve Granitz/Albert L. Ortega/Getty Images
Jennifer Garner's kids, family, and costars showed up to support her
Jennifer Garner, my personal girl crush and dream BFF, received a much-deserved star on the Hollywood Walk of Fame on Monday. This would be great news all on its own, but Garner made it one million times better by bringing her trio of precious kiddos to celebrate the occasion along with the rest of her family.
Look. At. Them.
Garner, who has the most adorable Instagram presence in all of the land, isn't known for showing off her children on social media. In fact, you'd be hard-pressed to find many (if any) pics of them on social media Which is why I'm kind of hyperventilating at this rare glimpse of 12-year-old Violet, nine-year-old Seraphina, and six-year-old Samuel surrounding their mom on her big day.
Violet is a tiny version of her mom and Samuel is every inch the youngest kid, just clinging to Garner for dear life. Seraphina is her dad, 100 percent, and Violet's hand on her little sister's shoulder is warming my dang heart as are their coordinating outfits. I can fully understand why the mom doesn't make a habit of posting photos of her kids, but it must be tough not regularly reminding the world of the gorgeous babies she and Affleck share.
I mean. Come on.
Is this even life? The sweetness is renewing my soul.
She has an actual clone…
…and a Stage 5 Clinger, just like the rest of us moms.
Garner's sweet babies weren't the only family who turned out to show support on her big day. Her sisters, Melissa and Susannah, and parents William and Patricia were also there to cheer her on.
Pretty much every Garner showed up.
Actors Steve Carrell and Bryan Cranson gave speeches at the ceremony as did Garner's 13 Going on 30 costar Judy Greer, my other vote for fantasy BFF. These two are complete friendship goals.
And of course, Garner slayed all by herself.
Let's hope this is the start of slightly more frequent appearances by the Garner-Affleck kids, but if not, I fully get it. I'll just cling to these adorable images until the next rare batch comes out and my squealing can start all over again.
This article was originally published on