Allow Jennifer Garner To Make You Feel Better About Getting A Mammogram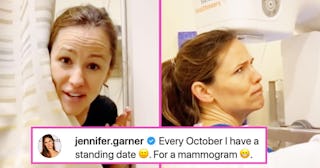 Jennifer Garner/Instagram
Mammograms might not be pleasant, but Jennifer Garner somehow makes them way more bearable
She may not realize it, but Jennifer Garner is 100 percent our mom BFF. She's that person we want to have coffee with and talk all about our problems because she seems like she would totally get it. The actress might be rich and famous, but her Instagram continually proves that she keeps it very real with motherhood, her "pretend" cooking show, and dreaded doctor visits we all tend to put off. That's why we're loving her recent Instagram post documenting a medical thing every woman dreads — the annual mammogram.
Garner shared a few clips on her account documenting her visit to get that yearly boob-mashing test that can be instrumental in early detection of breast cancer, literally saving lives with just one quick procedure. "Happy October! It's Breast Cancer Awareness Month, and it's time for a mammogram," she says in the vid.
Ok, first things first, why is she the most adorable person on the planet? How does she make getting a mammogram cute? Fun, even. We can't even and we love her to bits for breaking down this kind of scary thing and making it seem like NBD.
"Every October I have a standing date 🙂. For a mammogram 😬," she writes in her caption. "For me, having the appointment on the books makes it routine, like the dentist. I know it's scary, sisters, but just do it—the next best thing to an all clear is early detection. 💗 To everyone in the thick of the battle—respect and love and strength to you. 💗"
She goes through the process of putting on the ugly hospital gown and makes the face we all make when that machine is squeezing the bejesus out of our bazooms, and it's pretty awesome. We won't ever know how many women will watch this video and decide that getting a mammogram isn't so bad after all, but even if it's only one, then kudos to Garner for being so open and making a difference. It's not every day that we see a very famous person sporting that drab medical attire and letting us in on a very intimate moment that's actually quite ordinary, if terrifying.
So many women procrastinate on this annual chore because let's face it — it's uncomfortable to endure and definitely pretty scary. If you have a family history or know anyone who has battled breast cancer, the anxiety increases. My own family history is frightening, which is why I opted for my baseline mammogram to happen at age 35 instead of waiting for 40. I tested negative for the BRCA gene while most women in my family tested positive. That history, despite my good test results, made me nervous, so I decided to be proactive.
And I'm so glad I did.
My mom came with me and even though I was beyond nervous, I did it — I even had a follow-up ultrasound because my breast tissue is dense and thankfully, all was clear on both tests. I won't say it's the most fun thing I've ever done, but it was an amazing relief to know I was all good. Garner experienced a similar moment when her doctor walked into the exam room to tell her the good news. "Okay, your mammogram looks perfect," he says, and they both give a thumbs-up.
We're giving a thumbs up to Garner for making something so many women are afraid to confront absolutely no biggie at all.