Jennifer Garner's Response To A Magazine's Story About Her Divorce Is Perfection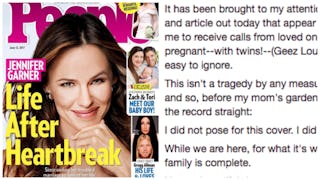 Image via Instagram/Facebook
The actress sets the record straight after an unauthorized People magazine story
Jennifer Garner and Ben Affleck are currently going through a divorce, and no amount of money or celebrity makes that an easy thing. Actually, it makes it harder — a lot harder. After a magazine published a story with details about Garner post-split that she never authorized, she wasn't pleased. Instead of letting it go, she took to social media to set the record straight.
People magazine published a cover story about Garner and Affleck using an image of the actress that she explains in a Facebook post was one she "did not pose for." It's basically sensationalist garbage meant to sell magazines with zero regard for the truth or this family and the very real and difficult time they're currently enduring.
At no point is Garner directly quoted in the story, as all info comes from an "insider" who makes quite a few claims, starting with the headline: "Jennifer Garner Isn't Ready to Date After Divorce: 'Ben Was the Love of Her Life.'" As the headline suggests, the article speculates about when the mom of three will be ready to date ("insider" says, "She's certainly not jumping up and down and screaming, 'I'm single!' and planning dates. She still says Ben was the love of her life.") and how the former couple plan to parent their three children.
Sounds like pretty sensitive information that, if true, should be coming straight from the source.
Speaking of the source, Garner pulls no punches in her perfect response. She's not super vocal on social media, so when she decides to open up, we know she means business.
Garner starts off by mentioning the People article and cover that "appear" to be coming from her. She then acknowledges that as a celebrity, bogus tabloid stories are written about her all the time . It's simply part of the territory. "It isn't unusual for me to receive calls from loved ones thinking I forgot to tell them I am pregnant–with twins!–(Geez Louise), but those are so ridiculous they're easy to ignore."
She gives us a hint of what life is like when you're famous and your extended family is forced to hear outlandish things about you that are probably not even true. "This isn't a tragedy by any measure, but it does affect me and my family and so, before my mom's garden club lights up her phone, I wanted to set the record straight."
And she does. "I did not pose for this cover. I did not participate in or authorize this article. While we are here, for what it's worth: I have three wonderful kids and my family is complete," she writes.
Garner and Affleck are both famous and understand that bullshit "news" stories about them are to be expected, but they have three kids, all over the age of five. Three kids who can read and watch TV and who will one day be able to Google basically anything about their parents. While a celebrity divorce is just another news item for a publication and its readers, it's the end of a marriage and the seismic shift of a family dynamic — forever — for the people it's written about.
In her brief post, Garner did something very brave and important for both herself and her kids — she put the truth out there.
And "for whatever it's worth," we think that's amazing.