Jennifer Garner Selling Girl Scout Cookies Is Every Mom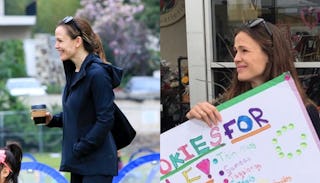 Image via BG004/Bauer-Griffin/Contributor/Getty Images/Instagram/Jennifer Garner
If you have a Girl Scout, you've been out there like Garner
Whenever our kids have something that needs to be sold, chances are parents are chipping in to help out to get the job done. And since there are a million school fundraisers, bake sales, holiday sales, and charity events, it can sometimes feel like a part-time job. Enter actress Jennifer Garner selling Girl Scout cookies with her daughter outside a grocery store, just like the rest of us.
Garner posted the sweet pic with the caption, "Why yes, kind sir, we do have Thin Mints," next to a guy who came for groceries but is most definitely leaving with some Samoas.
Garner is mom to daughters Violet, 12, Seraphina, nine, and Sam, five, and it's unclear which daughter she's helping out but from the looks of it, she's a seasoned professional, colorful signage and all.
Garner told Live with Kelly and Michael in 2016 that she went through "intense" training to become a scout group leader. But in the end, no one's bothered about who she is, they just want their damn Thin Mints.
"Nobody cares," she said. "I'm just there with the troop."
These girls are serious about selling, too. My husband went out to shovel snow from our driveway last week and came back in with seven boxes of cookies. It was as if they appeared from the heavens. In actuality, a mom and daughter were walking in absolutely frigid weather to get those puppies sold. I, for one, have never been happier to see my husband.
According to the Daily Mail, Garner also took to Instagram in a now expired Instagram story to make sure everyone (and I mean everyone) could order cookies from her kid. "Good afternoon, I am so distressed to find out that some people don't have access to a Girl Scout or Girl Scout cookies," she said in her Instagram story. "And while my Girl Scout and Brownie have to sell their own cookies, I did buy a limited number of boxes from them to share with you guys."
"So if you truly have no Girl Scout in your life. Please send me your order and your address and I will try to hook you up," she said. "Because what would this time of year be like without Thin Mints and Samoas and now there are gluten free Savannah Smiles and the newest ones are Girl Scout S'mores." As you can imagine, she sold out of those in record time.
Someone give this woman a badge.
This article was originally published on