Jennifer Garner Wearing A 12-Foot-Long Scarf Her Kid Made Is Peak Mom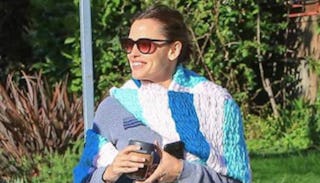 Image via Instagram/Jennifer Garner
Who doesn't want a large scarf to sport around town?
As parents, we must always be fans of our children's artwork — better known as that heap of creativity they draw, paint, and splash way to much glitter on. And of course we, as proud parents, try to display this work throughout the house, including, but not limited to the fridge, walls, kitchen cabinets, in a pile on our desks, and covering a plethora of other surfaces in our home. But let's be honest, the rest eventually find their way into our garbage cans.
Unless, that is, we're expected to wear it.
Actress and mom of three, Jennifer Garner, proudly displayed such an item and posted it to her Instagram page this week. She captioned it, "When your nine year old weaves a 12ft long scarf on a peg loom for your birthday present, you'd better #werk," along with the hashtags "#fashionfriday #thecarpoollineismyrunway #proudmom."
And it's, uh, definitely very long. And very shades of blue and white and clearly not actually fashionable, which is what makes it so freaking adorable (and relatable) that Garner's rocking it out in public.
Of course, no matter what our little bundle of dreams makes for us, no matter how hideous, we're sure to dole out compliments like, "WOW, what a wonderful use of the color gray," in the world's most high-pitched voice. Or, "I really like the amount of elbow macaroni you were able to fit on one page." Hell, I once spent 45 minutes framing a rainbow crafted entirely of Froot Loops my three-year-old made. Because, mom.
I clearly remember giving my mom a pair of "H" earrings for Christmas I bought at a school holiday sale for three dollars. Pretty sure they were super ugly, but she still has them to this day. She never wore them mind you, because she was saving them for a "special occasion."
Garner is a woman after our own hearts. She sells Girl Scout cookies in front of busy grocery stores, empties her purse to the world half-canned on wine, and is a working mom trying to raise three kids. It's awesome that she shares her highs and lows us. We don't deserve to know what goes on in her world, but we feel like better humans because of it.
Now go werk that scarf, girl.
This article was originally published on