Jennifer Lawrence's 'Nude Lineup' Audition Story Is A Nightmare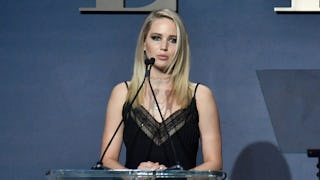 Image via Stefanie Keenan/Getty Images
Her story proves Hollywood producer harassment goes beyond Harvey Weinstein
Jennifer Lawrence is the latest Hollywood actress to open up about her experiences with sexism and sexual harassment in the industry. Lawrence — who has starred in Weinstein Company films — has stated she wasn't personally abused by Harvey Weinstein, but has been the victim of harassment and sexual degradation while doing her job.
She shared her story at the Elle "Women in Hollywood" event earlier this week, where she joined actress Reese Witherspoon in denouncing the abuse and harassment that runs rampant in the entertainment industry.
"When I was much younger and starting out, I was told by the producers of a film to lose 15 pounds in two weeks," she began. "One girl before me had already been fired for not losing enough weight fast enough, and during this time a female producer had me do a nude lineup with about five women who were much, much thinner than me. And we all stood side by side with only paste-ons covering our privates."
That level of indignity is almost unimaginable, and yet the story gets worse.
"After that degrading and humiliating lineup, the female producer told me I should use the naked photos of myself as inspiration for my diet," Lawrence said.
Only in Hollywood's Slimeball Producer World would Jennifer Lawrence be considered a stereotypically antiquated "before" picture. The entire experience she describes is completely mind-boggling. When she inquired about the uncomfortable casting process to another producer on the film, the response she received will make your skin crawl.
"He responded by telling me he didn't know why everyone thought I was so fat; he thought I was perfectly 'fuckable.'" Right, right — because a woman's worth is solely based on how attractive they are to men in charge? Got it.
Lawrence said she felt "trapped" and powerless in the situation at hand because she was a young, unknown actress. "I didn't want to be a whistleblower, I didn't want these embarrassing stories talked about in a magazine, I just wanted a career."
She said she hopes to help end sexual harassment in the entertainment industry and pledged her support to "any boy, girl, man, or woman who does not feel like they can protect themselves."