Can Someone Please Get Jennifer Lawrence A F*cking Coat?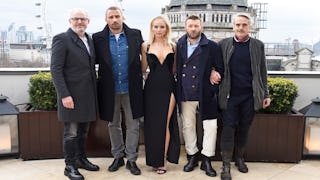 Image via Dave Benett/Getty Images
The 'Red Sparrow' actress looked significantly more chilly standing next to her male co-stars
How many of us would kill to be Jennifer Lawrence for just one day? She's beautiful, she's beyond talented, and she's got an Oscar and several nominations to boot. Not too shabby, right? But let's say we got to choose which day we'd want to be J-Law — it most certainly would not have been yesterday.
Because yesterday — amid the frigid London temperatures — Jennifer Lawrence stood atop a windy AF building in a Versace evening gown to promote her new movie, Red Sparrow.
Don't get me wrong — she looks absolutely fabulous. Her head styling is on point, the neckline jives with the vibe of the film she's promoting, and the slit is killer. But you know damn well she is fucking freezing.
Which brings us to her male co-stars. They, too, stood amid frigid London temperatures, atop a windy AF building. But all four dudes were wearing wool pea coats, sensible slacks, and warm boots.
Shit, even Jeremy Irons' mustache looks like it's providing more warmth than Jennifer's gown.
Maybe her PR team isn't aware there are plenty of chic coat looks that are still "sexy"? Take Kate Middleton and Meghan Markle, for example. Those ladies are constantly turning out some serious coat porn and consistently look amazing without sacrificing every ounce of their body heat in winter.
*Publicist tosses John Lennon shades*
"HEY JEN, HERE'S AN EXTRA LAYER"
I'm sorry, but that is the face of woman contemplating all the life decisions that led to this exact moment. Either that, or her nipples have just become hard enough to cut glass.
Look, she may have chosen her entire ensemble without a single care for the weather. If she did, then fine. She should feel totally supported in making that choice. Or maybe her glam squad wasn't available to do hair and makeup twice during yesterday's junket, so this was her "day to night but really just night and definitely indoors" look?
For whatever it's worth, here she is in the dress… but with a coat. Why couldn't she have just left this on?
But back to the Red Sparrow rooftop photo sesh: the stark juxtaposition of her wardrobe versus that of the guys is… worth a conversation. And Twitter is ready to have it.
https://twitter.com/jetpack/status/965933013635825665
Ha! Not exactly on-brand for Mr. Irons, but we're here for it.
Because God forbid an actress say not be one thousand percent agreeable to all decisions and then therefore be forever branded as "difficult."
+1,000 points for the Elsa reference.
Zelda Williams makes an excellent point — it's not about the dress and lack of coat, necessarily. But the overall unfairness of men vs. women and what's expected of them, appearance-wise, at events like this is just…UGH.
Again, she looks stunning no matter what she wears. I just hope she had a choice in the matter. Alright, who wants to be in charge of the #CoatsForWomen sashes?