Jennifer Lopez And Alex Rodriguez Are Engaged And OMG THAT RING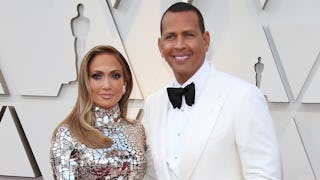 Image via Dan MacMedan/Getty Images
She said yes — and we say yes to that giant, beautiful ring
After more than two years of dating, Jennifer Lopez and Alex Rodriguez are officially in it to win it — for life. According to the Instagram photos they just shared, A-Rod proposed to J-Lo Saturday during a beach vacation, and she most definitely said yes. And yes, the ring is just…WHEW.
There's honestly just something about this coupling that makes so much sense. It's almost like they've always been together, even though they've both been married and had children with their former spouses. But these two just can't stop, won't stop being insanely attractive, sweet, loving, and perfect.
That. Ring. Is. Just. OMG.
A-Rod posted the same image on his own IG account, with the caption "she said yes." She certainly did!
Both Lopez and Rodriguez frequently gush about one another, and it's the cutest thing."I think we're just best friends," Rodriguez told ET. "We just love spending time together. Our kids love each other, so it's a good thing."
Their families definitely do seem to get along wonderfully, which is such a great thing for divorced parents. Both of them frequently post photos of them all together, doing fun things with their children as a group.
https://www.instagram.com/p/Bocx0PAgAdZ/
Last month, Rodriguez shared a touching shoutout to Lopez in honor of their two-year dating anniversary. (Prepare yourself, it's honestly going to make you resent your spouse — it's that good.)
"Like you there is none other," he wrote at the time. "Words will never do justice to what the last two years have meant to me. Thank you for always being you, for your unwavering support and unconditional love."
Don't worry, she had an equally heartfelt and adorable post about her main squeeze. "You make my world a more beautiful safe and stable place… in the midst of our ever-changing, ever-moving life… you make me feel like a teenager starting out all over again."
The couple met originally at a baseball game in 2005, when Lopez was married to singer Marc Anthony and Rodriguez was married to Cynthia Scurtis. Although there was a buzz of chemistry, neither were single at the same time and ready to date again until 2017, when J. Lo broke things off with Drake and A-Rod ended a relationship with CEO Anne Wojcicki.
They're just so clearly meant to be. It's lovely to see two people so in love (and the fact that together, they're one of the most jaw-droppingly gorgeous human couples on the planet doesn't hurt, either). We're so happy for the two of them and their families. Congratulations to the newly engaged couple!