Alex Rodriguez Completely Nailed His Birthday Message To Jennifer Lopez
by Cassandra Stone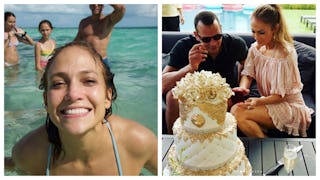 Image via Instagram/Alex Rodriguez
Could Jennifer Lopez and Alex Rodriguez *be* any more perfect?
Can everyone say #CoupleGoals? Because this sweet birthday shout-out from Alex Rodriguez to Jennifer Lopez is enough to sustain us eternally.
Lopez celebrated her birthday yesterday — her 49th birthday, to be exact. Yeah go ahead and let that sink in for a minute. This woman is 365 days shy of 50 and has perfectly chiseled abs and flawless skin. And if that wasn't gift enough, Alex Rodriguez made sure to shower his love all over her by sharing the cutest Instagram message dedicated to his beloved.
"When we were kids, birthdays were exciting because it was all about the gifts we would be getting," he writes in the caption. "A new bat, dance shoes, maybe a new CD (yes I'm old!). I see firsthand how that's changed for Jennifer, and how she's found joy in sharing with others."
He shared several swoon-worthy photos of J.Lo and their blended families — she shares twins Max and Emme, 10, with ex-husband Marc Anthony and Rodriguez shares daughters Natasha and Ella with his ex, Cynthia.
"For someone who has been about giving everything she has 365 days a year—to our children, our families, the world—I hope today, we can give you all the happiness you deserve," Rodriguez writes. "I love you mucho Macha 13."
He also shared several never-before-seen pics of the couple themselves, which, honestly — could they be any more perfect?
Like, are they even real? Honestly, who looks that good riding bikes?
He also shared a separate birthday post dedicated to just photos of his lady. Because when your lady is Jennifer Lopez, it's good to remind yourself and the world just how lucky we all are she exists.
When asked about her flawless, incredibly youthful appearance by emmy magazine earlier this year (look, inquiring minds want to know how the hell we can look even a fraction that good), Lopez said, "Listen, at some point, I'm going to age," Lopez joked. "They'll say, 'She looks old!' But, right now, I'm holding it together."
I'll believe it when I see it. Until then, she's 49 and freaking FABULOUS. Happy birthday, Jennifer!