JLo's Father's Day Shoutouts To ARod And Marc Anthony Are Co-Parenting Goals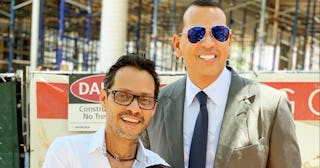 Jennifer Lopez/Instagram
JLo's adorable gushing over both her ex and her fiance are the sweetest
Jennifer Lopez won the "Father's Day post" award yesterday with a sweet message to her ex, Marc Anthony, thanking him for making her a mom; and it was made even sweeter when fiance Alex Rodiguez chimed in.
It's always fun to see people honoring the men in their lives on Father's Day by posting fun pictures and messages of love. Jennifer Lopez's message to Marc Anthony may have taken the cake though. "Happy Fathers Day to you Flaco!!!," the Grammy award-winning singer wrote. "Emme and Max love you soooo much!! Thank you for these two beautiful coconuts!!! Feliz Día Del Padre!!!"
The mom-of-two also posted an adorable throwback video of their son, Max, giving Anthony a Father's Day card. It's a sweet exchange and such a good memory of the time they shared together. If that's not enough cuteness, her fiance, Alex Rodriguez, joined in to honor him as well.
The pair, who also share custody of daughter, Emme, have always won the co-parenting game, which isn't an easy thing to do even when you do get along with your ex. Rodriguez posted a sweet message from Max's school music concert showing the tri happily singing along, saying, "Those who can, do. Those who can't, sit between two people that can and stay quiet! #imnotasinger," he said.
Lopez told Live With Kelly that she and Anthony are "like best friends" when it comes to co-parenting their kids and have even worked together since their split. "At first I was like, 'We're good with the kids and everything, but if we start working together, are we gonna start going at each other again?'" she said. "And it's been awesome. Honestly, I think it's even helped our relationship."
Lopez and Rodriguez got engaged earlier this year after more than two years of dating (and a thousand heart melting social media gushes about one another) and both have kids from previous marriages. Lopez and Anthony were married for ten years, ending their relationship in 2014. Rodriguez was married to spouse Cynthia Scurtis from 2002-2008 and they have two daughters, but the blended family looks to be getting along just fine.
Of course, Lopez was also quick to thank Rodriguez for everything he does for the family, saying in part, "How lucky are we to have you in our lives…not only do you make us all laugh everyday, you help us to be our best selves with a loving gentle hand. Being there and caring with a consistent presence that doesn't ever waiver. Macho…I cannot begin to tell you how much you have come to mean to me and Max and Emme!!"
There are so many factors on a daily basis that you need to check in on with your ex that effective communication is critical. You will be at the same school conferences, sporting events, concerts, and holidays for years to come, so getting along and wanting the best for each other is a whole lot easier than the alternative. It's not an easy balance, especially when you have new people in your lives, so kudos to them for figuring it out.
This article was originally published on