Jennifer Lopez Celebrates 50th Birthday With Wild Bash in Miami Beach
by Madison Vanderberg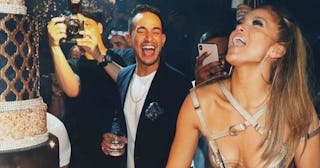 Jennifer Lopez/Instagram
Jennifer Lopez hosted a lavish 50th birthday party in Miami on Wednesday night
Jennifer Lopez turned 50 on July 24, 2019, and to celebrate fifty years as a multi-talented, ageless, actual goddess — the multi-hyphenate threw the greatest party we will ever have the pleasure of watching on Instagram Stories. You think your wedding was "fun?" Hah, just wait until you see J.Lo's birthday.
The Hustlers star celebrated her birthday on Miami Beach's Star Island on Wednesday night and according to E!, the party was held at one of Gloria Estefan's homes, that J.Lo entered the party to the tune of "Jenny From the Block," and that guests dined on a ten-tier birthday cake — which is the most iconic collection of statements we've ever heard.
J.Lo performed some of her own songs at the bash because she is a queen, but according to fashion designer Michael Costello's Instagram, her twins — Emme and Max — also performed as well. Emme performed Diana Ross' "Do You Know Where You're Going To?" and "It's a Hard-Knock Life" and Max performed "My Shot" from Hamilton.
You can catch her son rapping "My Shot" at the 1:32 mark in the video below.
Ashanti and Fat Joe also took the stage to perform their aughts classic "What's Luv?"
A party insider also told E! that the bash took over "multiple tents" and everything was decked out in white and gold.
"The entrance featured a giant golden archway and the J.LO emblem that was used throughout the party," according to E!. "It was glowing inside with hundreds of candles and white orchids everywhere. There was a tower of champagne glasses for guests to take and big spinning letters that spelled J.Lo."
Apparently, guests dined buffet-style and ate gold donuts for dessert, you know, casual. No disrespect to any other parties, but show us a better time than this?
"TONIGHT was a Jenny from the Block party, and we took it from the Bronx all the way to the 305!!!" Lopez's boyfriend Alex Rodriguez captioned the bombastic video.
While we're on the topic of A-Rod, he also shared this adorable home video to honor J.Lo on her birthday and it's really sweet.
The morning after the party, J.Lo shared a note of gratitude to her friends, family, and fans.
"It's been a birthday to remember. I can truly feel the love from all of you," J.Lo captioned the party pics. "Yesterday was a dream. I have watched your beautiful birthday videos and I must've cried 20 times. It was just another great reminder of how thankful I am for all the beauty and love I have in my life. Thank you all for being a part of this great feeling!"
Happy birthday to a triple threat, and apparently — the best party planner. Happy birthday J.Lo!
This article was originally published on