JLo Just Outdid Her Famous Versace Dress And How Is This Woman So Perfect?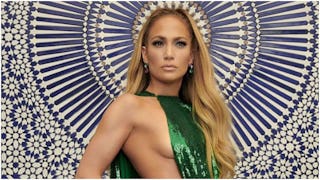 Image via InStyle
Jennifer Lopez just completely, COMPLETELY slayed her latest photoshoot
We're about to take you back to 2000, when Jennifer Lopez arrived at the Grammys wearing a green, see-through Versace number and the whole world collectively drooled. It really didn't seem possible that JLo could outdo herself after that iconic, barely-there fashion moment. And then, on Wednesday morning, she did.
Warning: there's straight up ~fire~ ahead.
For starters – here's that famous Versace moment.
Annnnd here's JLo posing for her InStyle photoshoot in 2018, rocking an insanely sexy Valentino couture gown even harder this time around. She's turning 50 next July and just…HOW? HOW?!
Alright, so what's Lopez's secret for all of that above perfection? She said that she's kept up the same habits throughout adulthood: no alcohol, no caffeine, and plenty of sleep. "I've taken care of myself, and now it shows," she said. Yup. Yup, it does.
She also noted that she's never been particularly self-conscious about her curviness or the media attention it received. "I didn't realize what I was doing — I was just being myself," she said. "In my family, curves were glorified and part of the culture. It was just like, 'Jennifer has a big butt, and it's good.'"
Lopez admitted that she did deal with insecurities about her talent when she entered the industry – but now she's confident and ready to move full steam ahead.
"When I first started it was always a matter of 'Am I good? Am I good enough? Do I need to be better? What can I do to be better?' Now I know I'm really good at this. So I just want to do it," she said.
The singer/actress/businesswoman/diva extraordinaire encouraged other women to have the same take charge attitude. "Who says you can't start learning how to play the piano at 50?" she said. "You're here until you're dead so might as well do shit."
A-freaking-men.
This article was originally published on