Ageless JLo Recreates 'Love Don't Cost A Thing' Video 20 Years Later
by Erica Gerald Mason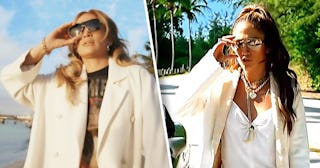 Jennifer Lopez/Instagram/Youtube
Ain't no party like a JLo party cuz a JLo party don't stop
Fresh off her inauguration gig, Jennifer Lopez took to Instagram to show the world she's still Jenny from the Block. In a throwback to her blockbuster video for the song "Love Don't Cost A Thing," Lopez recreates the famous scene where she tosses off jewelry as she walks away from her (offscreen) lover.
At the end of the video, People reports Lopez turns and starts to remove her shirt before turning around and covering the camera.
The video, captioned "Happy 20th Anniversary to my 2nd album J.Lo!!!! Had a little fun at a recent shoot 😎," Lopez captioned the playful clip, adding hashtags including "#Throwback," "#LoveDontCostAThing," "#JLO20thAnniversary" and "#LoveDontCostAThingChallenge."
Currently at over 9.5 million views, the comment section is a JLo-lovefest.
Actor/host/sometime Slater, Mario Lopez commented, "Felicidades!!" while clothing label Rodarte dropped a heart emoji.
Last week, multi-hyphenate icon used the Capitol steps as a backdrop as she and her fiancee posed together. Her partner, former Yankee Alex Rodriguez, sports a black suit and sunglasses, while our diva (dressed in white) leans against him. JLo, who has perfected her pout, looks at the camera straight on while the Capitol rotunda appears in the background.
Lopez posted another photo on Instagram – this time by herself on the Capitol stairs. In the type of outfit that should come with a warning label which reads "Don't Try This At Home Unless You Are JLo And/Or Very Very Rich,' Lopez poses in a gorgeous houndstooth suit, arms spread wide in gratitude.
In December, JLo filmed a New Year's Video on the 6 and S trains.
Wearing a Sex and the City-style outfit, seeing the former 'niffer' part of 'Bennifer' begs the question: why can't JLo play Samantha? Or even Carrie?
Just asking.
Speaking of Bennifer, according to PEOPLE, Ben Affleck recently spoke about the pressure the media put on their relationship.
"People were so f—- mean about her — sexist, racist. Ugly, vicious s— was written about her in ways that if you wrote it now you would literally be fired for saying those things you said," Affleck said. "Now it's like, she's lionized and respected for the work she did, where she came from, what she accomplished — as well she f—– should be! I would say you have a better shot, coming from the Bronx, of ending up as like [Justice Sonia] Sotomayor on the Supreme Court than you do of having Jennifer Lopez's career and being who she is at 50 years old today."
This article was originally published on