The Internet Is Loving Jennifer Lopez's Use Of Gender-Neutral Pronouns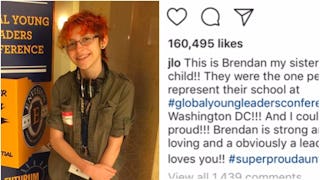 Image via Instagram
The pronouns were used on an Instagram post about her sister's child
When we think about Jennifer Lopez, the words singer, dancer, actor, mother, and global icon come to mind. When she shared a photo of her sister's child on Instagram early last week, we were reminded she's also one very proud aunt.
The superstar took to Instagram this week to shower praise on her sister's child Brendan for a huge accomplishment.
"This is Brendan my sister Leslie's second child!!" Lopez captioned. "They were the one person selected to represent their school at [the Global Young Leaders Conference] in Washington DC!!! And I couldn't be more proud!!!"
Noticeably absent in her post are gendered words in reference to Brendan. She used words like "person," "they" and "their" (instead of "niece" or "nephew," or "his" or "her"), showing respect to Brendan's identity as a person and concentrating instead on their accomplishments.
Naturally, there are a lot of people who still don't understand the importance of appropriate gender language or feel society has taken the use of using proper pronouns to the extreme. But here's the thing — it just comes down to being respectful of another person and honoring their identity. It doesn't matter if we understand it, it's not about us. It's about taking the time to learn what matters to them.
Gender isn't concrete for everyone. As such, we need to learn to adapt and grow and understand how our language impacts those around us. Not everyone identifies as male or female and they have done the work to be comfortable in their own skin. Using pronouns like "they" and "them" may seem nuanced to a person who never questioned their identity, but for others, that simple distinction can mean everything.
Though some comments were negative, the majority of people praised Lopez for her thoughtfulness around Brendan's gender identity:
"It's someone like you that opens hearts and minds to equality. Thank you."
"For the closed-minded people. Take away "they were" and add "The only one…" you're welcome. English isn't that hard assuming you know the language so well; if you don't like how she described her family then hop off this post. She is pro-equality and by using inclusive pronouns you can see that using "they" was a sign of respect to Brendan."
"Brendan keep representing a new generation of leadership! Congrats to them. And to you for being a decent auntie who respects gender pronouns."
"Glad for them and proud of you for all your sensibility, understanding and acceptance. Always loved you, but love you even more now."
Lopez's post had nothing to do with Brendan's gender, it was about their accomplishments and how proud she is to be their family, but in doing so showed respect to Brendan as a person. "Brendan is strong and smart and loving and … a leader!!" Lopez concluded in the caption. "Titi Jenn loves you!!"
This article was originally published on