JLo Wears An ICONIC Green Dress Again At Milan Fashion Week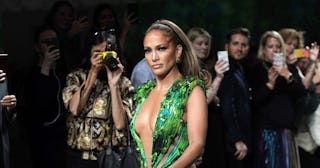 Vittorio Zunino Celotto/Getty Images
Jennifer Lopez wore her iconic green Versace dress at a fashion show in Milan
Once upon a time, a little-known star named Jenny from the Block wore a green Versace dress with a plunging neckline to the Grammy Awards in 2000, and it was nice. Just kidding, J.Lo's now-iconic green Versace dress broke the damn internet! When J.Lo stepped onto that red carpet all those years ago with what was essentially a sheer green Versace pool cover-up, she was instantly anointed "queen" status. Cut to today and J.Lo has proven that she is literally incapable of aging because the 50-year-old star closed the runway at Versace's spring 2020 show in Milan on Friday night in a re-imagined gown that mimics her iconic Versace dress.
On Friday, September 20, 2019, J.Lo walked the runway in a slightly updated take on the original green dress, and it should go without saying that she absolutely slayed.
This is J.Lo in 2000.
This is J.Lo in 2019.
For those not great with math, that's a 19-year difference!
This. Woman. Is. 50. Years. Old.
Did you know that Google Images was created because so many people could not stop googling "Jennifer Lopez green dress?"
"I found out that because of that night and because of that dress, Google Images was actually created," Lopez said in a YouTube video back in April. "That so many people went searching for this and they had nowhere to search a picture at that time on the Internet, they created Google Images."
We stan a tech influencer.
Donatella Versace actually paid homage to the Google accolade before J.Lo took to the catwalk on Friday night. After the other models left the runway, Donatella's voice came over the speakers and said: "Google, show me pictures of that green Versace dress." Images of the dress filled the video screens as Donatella's voice was heard asking to show "the real thing." Then, Lopez herself stomps onto the runway in — what else — a green dress.
https://www.instagram.com/p/B2pMe3An_4H/
Naturally, she received a standing ovation.
Lopez is having quite the summer. She is currently starring in the feminist crime movie Hustlers about a sisterhood of strippers who conspire against a bunch of Wall Street jerks, but the movie is more than that — it's also an opportunity to highlight how freakishly amazing Lopez is at pole dancing.
She acts, she sings, she strips, she fits into dresses she wore 19 years ago — what on God's green Earth can't J.Lo do?
This article was originally published on