Jennifer Nettles Calls Out Country Radio's Treatment Of Female Artists With Her Dress
by Leah Groth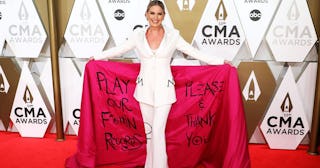 Taylor Hill/Getty
Jennifer Nettles got her message of equality out loud and clear, making a serious fashion statement at the CMA Awards
Instead of using the red carpet of the 2019 Country Music Association Awards on Wednesday night to debut a fancy designer's couture gown, Jennifer Nettles opted to take the opportunity to fight for equal rights. The Sugarland vocalist dominated the red carpet of the annual event wearing a custom Christian Siriano and Alice Mizrachi suit adorned with a hot pink cape reading "Play Our F–in Records Please & Thank You!" and "Equal Play" splashed across the back.
Jennifer later explained her choice to wear the statement-making ensemble on Instagram.
"When I found out that the CMA's were celebrating women artists this year, I saw a wonderful opportunity to invite and inspire conversation about country music's need to play more women artists on radio and playlistings," she started. She went on to explain that only 16 percent of the top 500 songs over the last four years (2014-2018) were women, deeming it "unacceptable."
"What better and more womanly way to invite such conversation than with fashion that sends a message?! I knew I had to collaborate with artists who were strong supporters of equality across all platforms," she continued, dubbing Siriano "an advocate and activist for equality across all lines" and Mizrachi, "an amazing NY Artist whose work celebrates women and who knows first hand the challenges of equality within the art space."
"The piece that they created for me is a beautiful celebration of women in country music as well as a call to action within the industry at large," she added.
She concluded by sharing how honored she was to be at the show celebrating other women in country music. "We need the celebration and support of women to move into country radio and country play listing," she wrote. "We want our songs to be played and our stories to be heard. The more our songs are played, the more women get to hear their own stories, challenges and triumphs reflected."
Nettles definitely sparked some conversation, as so many people had something to say not only about her ensemble — but what it represented.
Like equal pay is a pretty universal issue we are all fighting for, equal play is a huge issue in country music — and we seriously applaud Jennifer Nettles for not staying quiet about it and using her platform to spread the message.