You'll Wish You Were Invited To This Drag-Themed Birthday Party For Kids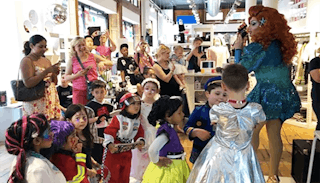 Image via Instagram/@therealjennypenny
In lieu of gifts, party guests were asked to donate to organizations that help LGBTQ youth
Some kids have their birthday parties at Chuck E. Cheese, and some kids get a party that would make the entire cast of RuPaul's Drag Race green with envy. One little girl had the birthday party to end all birthday parties — from runway lessons to customized makeup applications — and the pictures to prove it.
Jennifer Verdon tells Scary Mommy that her daughter, Juliette, has been a fan of Drag Race from a very early age, so having a themed birthday party to complement the show wasn't anything out of the ordinary. She says it's one of her daughter's favorite shows to watch with her male nanny, saying they like to "dance and werk" to it.
So Verdon got to "werk" on planning Juliette's most recent birthday bash. She booked drag queen Lagoona Bloo and Desmond Is Amazing, a self-described "drag kid" and LGBTQ advocate.
https://www.instagram.com/p/BjQeAwdFPoL/?taken-by=therealjennypenny
"Lagoona is an amazing singer and artist, and comedian," Verdon says. "She dressed up as Ariel and sang 'Part of Your World' for the kids and parents."
Verdon says it was nice to have a "fun, kid-friendly place" to see Lagoona perform, you know — since kids aren't usually awake during prime evening performing hours in bars.
"Everyone loved Desmond as well," Verdon says. "People were also so delighted to see a child who was accepted and able to be free and be who they wanted to be."
All the kids at the party got to have their makeup professionally applied by a makeup artist and put on a fashion show at the venue, The Phluid Project — a gender-free retail space in Soho. The store aims toward gender-nonconforming and genderfluid customers.
Having Juliette's birthday party there was a no-brainer for Verdon. "The Phluid Project is one of the most special stores I've ever been in," she tells us. "I think they are such a forward thinking retailer and that will be the future of how people buy clothes. They were also so open to having a kid's party there – the whole staff at The Phluid Project is just amazing – they are on the cusp of a really important movement."
As for the reaction from fellow parents, Verdon says they were all on board with the "drag theme" idea. "The parents all loved it," she says. "I got no hate at all, I was actually a little nervous."
In lieu of presents, Verdon requested guests make donations to the Hetrick-Martin Institute and The Center, two organizations that help support gay youth.
"We all have enough 'stuff,'" Verdon says. "Asking for donations is such a good platform to help out others."
This article was originally published on