Parents Send Messages Of Solidarity After Jenny Mollen Dropped Her Son On His Head
by Julie Scagell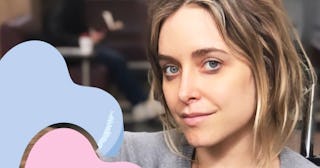 Jenny Mollen via Instagram
The five-year-old is recovering at home after Mollen accidentally dropped him resulting in a fractured skull
Accidents happen — it's a wonder any of us are in one piece. Kids get hurt and bones get broken no matter how close an eye you have on them. Actress, author, and wife of actor Jason Biggs, Jenny Mollen, revealed her son fractured his skull as a result of her dropping him on his head and parents and friends are jumping in to make sure she knows she's not alone.
"On Saturday evening, I dropped my son on his head causing him to fracture his skull and landing him in the ICU," Mollen shared on Instagram. "I am forever grateful to Lenox hill downtown and @nyphospital for their immediate response and aid. Thank you to all of the nurses, neurologists, pediatricians, residents, cafeteria staff and brave women that keep the visitor's bathrooms clean."
After talking about the incident publicly, the mom of Sid, five, and 18-month-old Lazlo received an outpouring of love from her famous friends like Angela Kinsey, Rachel Bilson, Erika Christensen, and Krysten Ritter and many others:
"Not sure how this post turned into an Oscars acceptance speech… But @biggsjason Thank god for you! Thank god, thank god, thank god," Mollen continued, addressing Biggs who was obviously the supportive, amazing husband he should be. "It has been a traumatic week but Sid is home now taking things slowly and recovering nicely."
Mollen's friend Stacey Bendet, of Alice + Olivia even joked that Sid is officially a NYC kid now:
Listen, it's tough being a parent. You have to be "on" all the time and are the primary safe-keeper of your kids. But shit happens, sometimes our kids get hurt and when it's a result of something we may have caused, the guilt can be all-consuming. My mom told me I fell off my changing table when I was six months old. She was right there and bent down to pick up a dropped diaper and I decided that would be the perfect time to roll over. I'm 45 and she still gets tears in her eyes when she talks about it. Hey, it happens.
Mollen also admitted to giving Sid pretty much anything he wants while recovering, because moms. "He is also eating a lot of chocolate dipped ice cream cones and plans to try cherry dipped soon," she said. "My heart goes out to all parents who have or will ever find themselves in this kind of position. You are not alone…"
It takes a lot to be able to admit when you've done something wrong as a parent, even though it was just an accident. Being open about it so others know they aren't alone in this tough gig of raising littles is admirable. She didn't have to share something so personal but she did it anyway. Imagine how less lonely parenting would feel if we were all this way.
This article was originally published on