Here's That Haunting Song From The End Of Last Night's 'Game Of Thrones'
by Valerie Williams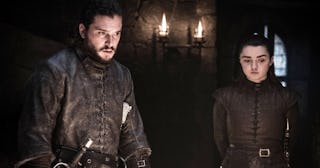 Image via HBO
"Jenny of Oldstones" was featured in last night's episode and now, the full version has been released
If you watched last night's episode of Game of Thrones, you're probably still Feeling a lot of Feelings, and those Feelings are coming with a capitol F because of one hauntingly sad song that played over the end credits. It's called "Jenny of Oldstones" and it made an appearance during the episode and then again, performed by Florence + the Machine, as the credits (and your tears) rolled.
HBO clearly knew the tear-jerker it had on its hands and to make Thrones fans happy (and also very sad), they released a lyric video for us to watch over and over until next week's episode where we will bite our nails as the White Walkers lay siege to Winterfell and all who reside in its walls. This is like, the calm before the storm and a funeral song and we're both here for it — and dreading it.
The tune was first heard during a bittersweet scene by a roaring fire in the Stark castle as some of the show's most beloved heroes gathered for drinks and, possibly, their last moments together before the White Walkers come. Podrick Payne answered Tyrion's request for a song and as he sweetly sang, scenes played of some favorite characters during possibly their last night alive. "High in the halls of the kings who are gone, Jenny would dance with her ghosts," is the opening lyric, one that book readers will be familiar with, but it was the only lyric to ever appear in the books. The show provided the full song, which Pod sang in his sweet tenor. And our tears flowed into our wine for pretty much the rest of the episode.
High in the halls of the kings who are gone
Jenny would dance with her ghosts. The ones she had lost and the ones she had found And the ones who had loved her the most.
The ones who'd been gone for so very long
She couldn't remember their names They spun her around on the damp cold stone Spun away all her sorrow and pain
And she never wanted to leave
Never wanted to leave. Never wanted to leave. Never wanted to leave. Never wanted to leave. Never wanted to leave.
The sad refrain played over moments between Sam and Gilly in bed with Gilly's son, Theon and Sansa quietly eating dinner together, Arya and Gendry snuggling, Grey Worm and Missande having a moment, and, then, Jon and Daenerys. Arguably, the song is hinting at things to come for the Dragon Queen and the secret Targaryen heir to the throne. It also speaks to Rhaegar and Lyanna's love. There's a whole lot going on here in any event, and we're crying and worrying and will be until next Sunday.
Twitter was definitely feeling the emotions.
Fans are also full of theories about who the song is speaking of.
The Jenny in the song married Prince Duncan Targaryen, who gave up his claim to the throne to be with her instead. That's how Mad King Aerys, Duncan's brother, began his reign.
Whatever the convoluted meanings behind the tune, we're all in for listening to it on repeat until next Sunday when we know our Thrones fans' hearts will be effectively shattered by what's to come.
This article was originally published on