'Jeopardy' Contestant Gives Up Prize To Send Sweet Message To Alex Trebek
by Christina Marfice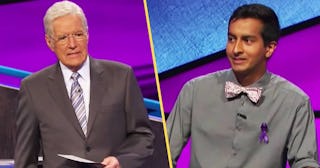 Jeopardy!/Youtube
Dhruv Gaur wagered all his cash on the final question, but his answer was actually a heartwarming message for Alex Trebek
As legendary host on Jeopardy Alex Trebek continues his battle with pancreatic cancer, support is coming from even the most unexpected places. During the Final Jeopardy round of last night's Tournament of Champions episode, returning player Dhruv Gaur wagered nearly all his cash to write something that wasn't even an attempted answer to the question — it was a message he wanted to give to the beloved host.
Trebek was clearly surprised when it happened. After the Final Jeopardy music died down, he turn to Gaur and said, "Dhruv, you're smiling. I like that. Let's take a look at your response. Did you come up with the right one? No?"
Then it was revealed that instead of an answer, Gaur had written, "We love you, Alex."
Trebek, visibly emotional and choked up, continued, "What is, 'We love you, Alex.' That's very kind of you. Thank you."
Trebek announced that he had been diagnosed with pancreatic cancer back in March. He immediately entered treatment, and when Jeopardy! returned to TV in August, he was there, ready to get back to work.
But despite undergoing chemotherapy and fighting a hard battle, it hasn't been all smooth sailing for Trebek.
In a series of tweets, Gaur revealed that backstage before last night's episode, Trebek had revealed to the contestants that he needs to return to treatment. Gaur said he and the other competitors, who had all returned to the show for the Tournament of Champions after previous wins, were shocked and saddened by that news.
Writing the message instead of an answer meant that Gaur's final score for the night was just $5, but he said he has no regrets.
To further show their support for Trebek during his hard fight, Gaur and all the other returning champions have been wearing purple ribbons on the show to raise awareness for pancreatic cancer. They have a "play-along" fundraiser organized for the end of this week. On Nov. 14 and 15, viewers can play along with the show, and for every answer they get correct, they're encouraged to donate $1 to the Lustgarten Foundation for Pancreatic Cancer Research.
It's just one small way to help show support for Trebek, as well as a former Tournament winner, Larry Martin, who died earlier this year from pancreatic cancer.
We're sad to hear that Alex Trebek will have to reenter treatment, but we know that so far, he's been fighting this disease with everything he's got. Viewers all over the world are rooting for him, and we hope all the love he feels from all of us will help keep him strong while he fights.
This article was originally published on