Jerry From 'Cheer' Interviewed Stars At The Oscars In True Jerry Fashion
by Christina Marfice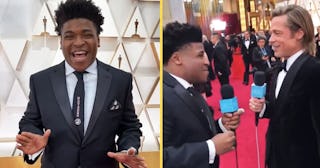 The Ellen Show/Instagram
Cheer may not have won all the Oscars it deserved, but Jerry Harris still had the night of his life on that red carpet
Unfortunately, the Oscars are just for movies, which means Netflix shows aren't eligible to win any. Big bummer, because Netflix's hit reality docuseries Cheer deserves every award that currently exists and then some. But even though there were no trophies on the line, the Navarro crew made Oscars night one to remember by sending their unofficial mascot and the King of mat talk, Jerry Harris.
https://www.instagram.com/p/B8YEPuXA9kO/?utm_source=ig_embed
Jerry got the surprise of a lifetime when he was asked to be a red carpet correspondent at the Oscars for The Ellen Show, meaning he got to represent Ellen and her crew as he interviewed some of the biggest stars in the world today, just before one of the biggest events in Hollywood. It was probably a pretty obvious choice to send Jerry to do this, because if there's anywhere a person needs some mat talk, it's on the red carpet right before the freakin' Oscars.
And our Jerry did not disappoint. I mean, just watch him try to interview Billie Eilish without fangirling, and then letting her try on his Navarro Cheer national championship ring.
Some of the other celebs Jerry got to cheer on? There was Idina Menzel, who appeared in the Oscar-nominated Frozen 2 last year.
Mindy Kaling, who is an all-around girlboss and suddenly we're having fantasies of a sitcom starring Mindy and Jerry? Netflix, if you're reading this, please make something happen, thanks.
Oh, and just casually, Jerry interviewed Brad Pitt on the Oscars red carpet.
Brad freaking pit. At the freaking Oscars. On the red freaking carpet. Jerry's face after the interview was #relatable.
He also chatted up Oscar performer Janelle Monáe and Grammy award-winning artist Billie Eilish. To say he had a huge night is an understatement.
All the interviews the Cheer star did during his red carpet stint are still up on Ellen's Instagram stories, but they could disappear at any time, so you'll have to hurry if you want to see them. And trust us — you want to see them. Jerry is a natural.
We've been looking forward to this moment for a few days now, ever since The Ellen Show released the video of Navarro Cheer Queen Monica Aldama telling Jerry that he was going to be Ellen's correspondent at the show. His reaction to the news was everything.
To make things even better, the Oscars apparently happened on Monica's birthday, and Jerry made sure to give the beloved coach a sweet shout out from the red carpet.
https://www.instagram.com/p/B8XnLgoF8Fb/
This is the kind of content we need while we wait not-so-patiently for Cheer Season 2. Jerry, keep it coming.