'Cheer' Star Jerry Harris Allegedly 'Exploited And Violated' At Least 10 Boys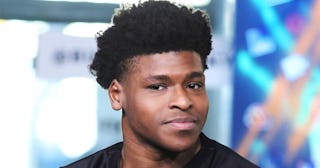 Jim Spellman/Getty
Prosecutors are calling Jerry Harris a "clear and present danger" who "exploited and violated" at least 10 boys
Prosecutors are calling Jerry Harris a "clear and present danger" who "exploited and violated" at least 10 boys, according to new court documents filed in Illinois earlier today. They claim 21-year-old Harris, star of the popular Netflix docuseries Cheer, victimized "at least 5 to 10 children who are all forever damaged" and motioned to keep him behind bars until his trial.
The new allegations were made in a government motion for pretrial detention against Harris, who rose to pop culture fame earlier this year thanks to Netflix chronicling the cheerleading team at Navarro College in Texas. He was arrested and charged last month with one count of producing child pornography for allegedly soliciting nude photos from minors. He is currently being detained in a Chicago jail.
"Harris exhibits all the signs of a serial child predator and unless and until he receives significant mental health sex offender treatment, he will remain a danger to any child he encounters, either online or in person," reads the document.
In the documents, prosecutors describe Harris as a "brazen sexual predator" who could not control his urges, and state it would be unsafe to release him into the community before his trial. They said that since his arrest they had spoken with "multiple other victims who all describe near-identical criminal conduct by Harris involving the sexual exploitation of minors." They say he must remain behind bars so he cannot harm another child.
According to multiple outlets, attorneys for Harris haven't responded to requests for comment. After his arrest, he denied the claims against him to media. Though during a Sept. 14 interview with law enforcement officials, Harris allegedly admitted to having oral and anal sex with a 15-year-old at a 2019 cheer event.
Warning: the alleged violations that the documents describe are incredibly disturbing and may be difficult to read.
In one portion of the prosecutors' filing, they describe Harris as following the 15-year-old boy into an unlocked bathroom at an event "attended by dozens of responsible adults" before allegedly sodomizing him. Harris is also being accused of exploiting the fame and money he earned from Cheer to target more minors by offering them money — sometimes more than $1,000 — to perform sexual acts over FaceTime or Snapchat for his sexual gratification.
A Netflix spokesperson made a statement to PEOPLE last month after news of the arrest. "Like everyone we are shocked by this news," the statement read. "Any abuse of minors is a terrible crime and we respect the legal process."
This article was originally published on