Jessica Alba Is Pregnant With Baby No. 3 And Her Announcement Is Adorable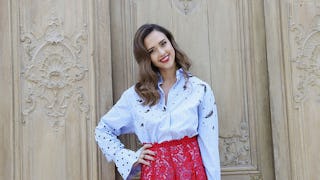 Image via Vittorio Zunino Celotto/Getty Images
Jessica Alba is expecting her third child
Jessica Alba took to Instagram yesterday to reveal that she's expecting her third child. Her first two children are also in on the announcement, which is pretty much the cutest little video, ever.
"Cash and I are officially going to be outnumbered, " Alba, 36, wrote. "#babyonboard #herewegoagain #blessed"
Alba and her husband, Cash Warren, are already parents to two girls; nine-year-old Honor, and five-year-old Haven — so not only do they have a head start on the whole "life with a newborn" thing, they also have a trove of natural products to spoil the new arrival with. Honest Company goodies for days! This is not an easy mom-to-be to shop for.
Many moms with multiple children insist that moving from two to three is an easy transition — and Alba has always had a measured approach to parenting. After the birth of her second child, Jessica had some great advice for dealing with mom guilt: "Don't get overwhelmed trying to do everything at once," she cautioned. "Lay out what you can get done now and what will take longer. Don't be hard on yourself."
And as for bringing another child into the world — just more to love. After the birth of her second child, Alba said the most surprising thing about parenting was, "I had no idea that I could love so intensely and receive such pure, unconditional love."
Congratulations!
This article was originally published on