The First Pic Jessica Alba Shared With Her New Baby Is All Of Us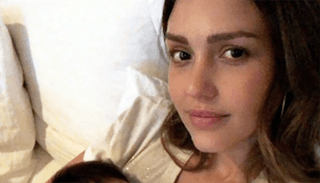 Image via Instagram/Jessica Alba
Jessica Alba spends her days holding an infant and watching TV — just like the rest of us
There's not a whole lot a mom can do when she has a tiny baby to care for. First of all, new moms are likely exhausted. Second of all, life now revolves around feedings, diaper changes, shushing, soothing, and rocking. Which is why those first weeks and months of newborn life are the perfect time to binge-watch a favorite show.
Jessica Alba is totally there with her new little guy.
In a recent Instagram post, the actress and businesswoman showed off her sweet baby boy Hayes, her third child, (he has two big sisters, Honor and Haven) while sharing an adorable tidbit about what she's been up to lately.
Alba and husband Cash Warren welcomed Hayes on New Year's Eve, so he's exactly a month old. That's why it's no surprise his momma is deep into Grace and Frankie while holding her snoozing little guy. "Tuesdays/all the days w my Hayes #chillin watching @graceandfrankie- I'm on season 4 and I don't want it to end. #bingewatching #graceandfrankie #lovethisshow #newbornmom"
#Newbornmom like whoa. What mom can't hardcore relate to Alba's choice method of passing the time with a tiny baby in the house? I watched basically all of CSI: Miami while either holding my newborn daughter or pumping milk for her. I swear hearing David Caruso's voice or The Who would still trigger letdown almost 10 years later.
But what else was I supposed to do? I was far too tired to read an actual book, I didn't have a Smartphone yet (shut up, I'm old) so binge-watching series off my DVR was life.
https://www.instagram.com/p/BeJw2InB1RX/?taken-by=jessicaalba
Being a new parent is a lot — even when you're rich and famous. Exhaustion is a thing no matter what a mom does for a living, and watching one episode after another of a favorite TV show is exactly what the doctor ordered.