This Photo Of Jessica Alba Breastfeeding At Target Is As Real As It Gets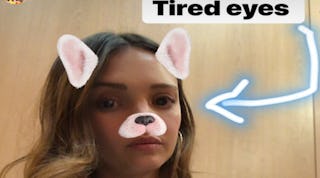 Image via Instagram/Jessica Alba
Who among us hasn't dealt with a hangry baby in a Target fitting room?
Look, moms and Target go together better than peanut butter and jelly. That place is a haven of endless home solutions, wardrobe must-haves, and ways to break your bank account. As we rarely ever get to enjoy the fruits of Target solo, we all kind of silently and collectively agree it's a safe space to bring our children out into the public.
Even if you've got a hangry infant situation brewing. And if Jessica Alba's latest Instagram post is any indication, she knows a hungry baby gives not a single shit where you've gotta stop and drop some boob.
Just another reason why moms everywhere love Target: those fitting rooms are roomy enough to accommodate a nursing sesh. I can personally vouch for that, because I had to do the exact same thing on multiple occasions when my daughter was a hangry breastmilk monster. I'd plop down in a fitting room, nurse her, and then go about my business at a more leisurely pace while my baby snoozed off her milk coma.
Alba and her husband Cash Warren welcomed their third child, baby Hayes, three months ago. And even though she's a super glamorous celebrity mom, she's also the founder of the Honest Company. Which means she's familiar with the plight of a working, nursing mom.
She posted the above photo, where's seen nursing Hayes after a board meeting she attended while still technically on maternity leave. "Baby boy came to visit/eat at lunch. Felt very productive today," she wrote in the caption.
We absolutely love it when moms — especially celebrity moms — keep it real on social media. And there's nothing more real than Jessica Alba's "tired eyes" Target photo.
Candid snippets like the ones she's shared here help normalize breastfeeding and show that no matter who we are — new moms are tired AF. Who can't relate to that?