Jessica Biel And Justin Timberlake Are Starting Their Toddler's Sex Education Now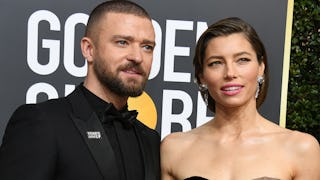 Image via Valerie Macon/Getty
Jessica Biel is being proactive with her toddler's sex education
There will be no "pee-pee" and "wee-wee" in Jessica Biel and Justin Timberlake's household. The actress is starting her two-year-old son Sila's sex education early, and she's keeping it very real in the process. As in, she wants her son to use the proper words for his genitals and to feel zero shame when it comes to his body. Amen to that.
During the 2018 MAKERS Conference this week, Biel opened up about her decision to educate her son about sex — and why she's choosing to do it at such a young age.
"We're starting now," she said. "We're using technical terms … we shower together, and [we say], 'This is what I've got. This is what you've got.' We just talk about it. I know it's really young, but I really believe that if you start this early, there's no shame."
Yup, yup. Can definitely get behind that. The actress went on to explain that everyone's body is "a beautiful thing."
"I don't want to tell him, 'Keep your private parts,' and this and that," Biel said. "You have it and mine is different and it's cool, man. We have to respect ourselves and respect each other. So I believe it starts really young."
The couple have always been very, very real about parenting. They never try to make it look super glamorous and cool — and for that we will love them forever. Like, sometimes you have to quickly eat a plate of spaghetti in the bathroom because — as Biel explains — that's #MomLife. Or, sometimes you're gonna fall asleep in the car and drool a little bit, because you're tired damnit and sitting shot gun is a rare moment to get some shut-eye.
Biel has really got child sex education and #MomLife down to the T. She's also got some treats for her fellow ladies as well. The actress debuted a PSA alongside Chelsea Handler this week, which featured the two women discussing the wonders of their vaginas, the shapes of their vaginas, and what exactly the vulva is.
The segment was created in partnership with the sex-positive resource Tryst Network — and I've gotta give all the snaps to Jessica Biel for pushing hard for honest, thoughtful discussions about sexual health, at every age. Here's to all the self-love, and feeling totally comfortable saying the word "vagina" in public spaces.