Jessica Biel Is Lobbying Against A California Vaccination Bill
by Valerie Williams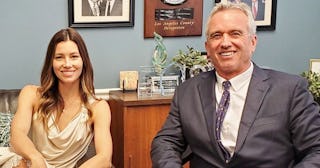 Robert F. Kennedy Jr./Instagram
Jessica Biel is working with a known anti-vaxx conspiracy theorist to lobby against a vaccine bill
Bet you didn't wake up this morning thinking there would be internet controversy involving actress Jessica Biel, and yet, here we are. News broke last night that she's been working with activist Robert F. Kennedy Jr. to lobby against SB 276, a California state bill that would make it harder for people to obtain medical exemptions from vaccinations.
Ugh.
Kennedy, an environmental activist (and, historical fun fact, the nephew of President John F. Kennedy), has shifted his focus recently to spouting anti-vaxx garbage, right in the midst of a measles outbreak. Here's a little taste of what we're dealing with — this dude is a complete wing nut, pretty much:
"The cure for most measles is Vitamin A. We do not know the risk profile of MMR [measles, mumps, rubella] vaccines. That is deliberate," he told the Washington state legislature's health committee earlier this year. "The MMR vaccine act was passed in 1986 in a gold rush of removing liability from those [vaccine] companies. No matter how egregious, they can't be sued. I got three vaccinations. I have seven children with 72 mandatory vaccinations."
Enter, Jessica Biel. Kennedy shared several photos of himself with the actress as they spent time yesterday at the California State Assembly in an effort to lobby against a bill that would limit medical exemptions from vaccines without approval from a state public health officer. On his Instagram account, he posted photos with a caption calling Biel "courageous."
In an interview over the phone, Kennedy told The Daily Beast that Biel's an "effective advocate."
"She was very strong and very knowledgeable. Extremely well-informed," he says. "An extremely effective advocate. She knows what she's talking about… She's upset about this issue because of its particular cruelty. She has friends who have been vaccine-injured who would be forced to leave the state."
Up until now, Biel has never done or said anything publicly to indicate her stance on vaccines, but in 2015, reports did surface that she and husband Justin Timberlake (guess we have to cancel him too — shit) weren't planning to vaccinate any children they had. A source told In Touch Weekly at the time, "Jessica is refusing to vaccinate him. She feels that vaccination could cause complications."
You know what else causes complications? Measles. Polio. Chicken pox. Mumps. Just saying.
Of course, the internet is not super happy to hear that Biel is even suggesting she might not be down with vaccines.
After the internet explosion over her trip to the California State House, Biel took to Instagram this morning to clarify that she's not against vaccines, but wants families to have the ability to make their own choices on the matter in conjunction with their doctor.
"I am not against vaccinations — I support children getting vaccinations and I also support families having the right to make educated medical decisions for their children alongside their physicians. My concern with #SB277 is solely regarding medical exemptions," she writes. She then explains that a close friend has a child with a medical condition that warrants exemptions and she's concerned that the bill passing will "greatly affect their family's ability to care for their child in this state."
PS — she named the wrong bill in the post. SB277 actually passed a few years ago and when a child truly needs a medical vaccine exemption in California, they're able to get one.
If Biel truly isn't against vaccines, she's not doing herself any favors in the public eye by aligning herself with a guy who co-opted the phrase "My body, my choice" to back up his nut-ball vaccination views. Only time will tell when it comes to whether Biel will eventually out herself as full-on anti-vaxx. Fingers crossed she's not, in fact, bringing measles back.
This article was originally published on