Jessica Biel Opens Up About Having A 'Secret' COVID Baby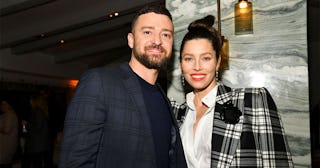 Rodin Eckenroth/Getty
Jessica Biel didn't mean to keep her pregnancy a secret, but then COVID happened
We were all delighted last September, when former NSYNC-er Lance Bass accidentally revealed in an interview that his buddy Justin Timberlake and wife Jessica Biel had had another baby. There had been rumors flying for a while that the pair was expecting, or that Biel had even already given birth, but nothing was confirmed until Bass spilled the beans. However, in a new interview, we've learned that the secrecy surrounding the whole situation was kind of an accident, and it's the most relatable thing I've ever heard about this couple.
Biel appeared on Dax Shepard's podcast, "Armchair Expert," where she opened up about her "secret" COVID baby — and how she didn't mean to keep the public and all her fans in the dark for so long.
"I had, like, a secret COVID baby," Biel joked, adding, "It wasn't like it was supposed to be a secret. It was just COVID happened, and then I went to Montana with my family and never left."
Listen. Who among us went into quarantine and didn't just completely lose track of time? As someone who left my apartment extremely rarely in 2020, I can relate to how nine months of pregnancy could pass without you really realizing you forgot to tell people about it. 2020 was weird like that. I get where Biel is coming from.
But now, she and Timberlake are parents to Phineas, who is now 11 months old — in addition to their 6-year-old son, Silas. That's a little bit of an age gap, and Biel also opened up about how she and Timberlake had to relearn what it was like to have an infant in the house.
"I forgot what happens," she said. "To you, as a person, as a human. With your partner, with your sleep schedule. I forgot. I'm happy we're 11 months in because it was serious."
She added, "Someone said to me, 'Two is like having a thousand.' And that's exactly what it feels like. The balance of everything is very different and super hard. I mean, it's amazing. It's so interesting. It's so funny. The conversations I'm having now with my 6-year-old is so cool. Like, he's a real person saying the funniest stuff and he's so sensitive and tender. It's just so interesting to see that part of it happen and the little one is just cute as hell."
Biel also opened up about Phineas's birth, and how she was worried that COVID protocols would prevent Timberlake from being in the room with her when she had her baby. Thankfully, that turned out not to be the case.
"I think if I'd had to be there alone, that would have been horrible. I would have been really scared," she said.
We're glad that part of her secret COVID baby experience went smoothly! Hopefully this little family has settled into a rhythm together, and we'll catch a glimpse of the new little one soon.