The Vaccine Bill Jessica Biel Lobbied Against Just Passed
by Christina Marfice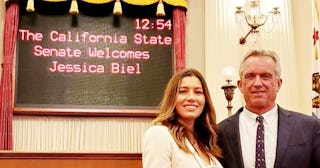 Robert F. Kennedy Jr./Instagram
Opposition from Jessica Biel apparently wasn't enough to stop a bill that will increase vaccination rates in California
Remember when Jessica Biel became an anti-vaxx activist? She teamed up with Robert F. Kennedy Jr., a known anti-vaccination conspiracy theorist, to fight a California bill that would have increased vaccination rates in the state. The pair took a trip to the California State House earlier this month in a bid to stop the bill that would make it harder for people to get medical exemptions from vaccines.
Except apparently, Biel's opposition wasn't enough to stop the bill — it just passed.
A California Assembly committee approved the measure in a 9-2 vote late last week. Now, medical exemptions for vaccines in California will require more scrutiny and will be overseen by the state Health Department, making it harder for doctors to write medical exemptions for reasons that don't actually have anything to do with vaccines. One reason lawmakers cited was asthma, which absolutely should not prevent a child from receiving vaccines, but was an acceptable reason for a medical exemption before this law.
Lawmakers who supported the new law said it was designed to stop "unscrupulous" doctors from granting medical exemptions when the kids in question actually have no medical reason for not receiving vaccines.
"California cannot allow a handful of unscrupulous physicians to put our children in danger," Sacramento Democratic Sen. Richard Pan told the committee.
This comes amid the largest measles outbreak the U.S. has seen since 1992 — 19 years after measles was declared eradicated in the U.S. in 2000. The disease has seen a resurgence in recent years, largely driven by high numbers of unvaccinated kids. It's sparked an ongoing debate about vaccine policy as we're seeing the very real consequences of allowing parents to opt out of giving their kids' vaccines without any medical reason for doing so. Some states are now removing their religious and philosophical exemptions, making it so every kid must get vaccinated unless they have a legitimate, medical reason they're unable to.
After reports that she was lobbying against the bill, Jessica Biel took to Instagram to deny that she's against vaccinations.
"I support children getting vaccinations and I also support families having the right to make educated medical decisions for their children alongside their physicians," she wrote.
But that just seems to indicate that she didn't understand the bill she was lobbying against. It won't eliminate medical exemptions. In fact, it will ensure that kids only get medical exemptions from vaccines for legitimate reasons, which seems like a much better way for "families having the right to make educated medical decisions for their children alongside their physicians."
This measure can only help in a time when vaccines are being vilified by uninformed people. The World Health Organization named anti-vaccination sentiments to be one of the biggest health threats facing the world today. Vaccines are safe, effective, and necessary to fight preventable, sometimes deadly diseases. It's great to see laws supporting that, and hopefully, the result will be more vaccinated kids.