Jessica Biel's Birthday Message To Justin Timberlake Is Sweeter Than Cake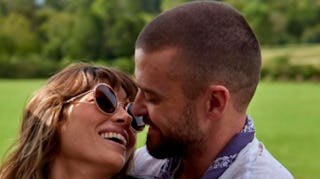 Image via Instagram/Jessica Biel
Jessica Biel posts adorable birthday Instagram wish to her husband
There's a part of us that will always be bitter over Jessica Biel running off and marrying our imaginary boyfriend. But sour grapes aside, it's obvious that she and Justin Timberlake really are perfect for each other. After five years of marriage and a baby, some couples' flame is down to a spark so small, a sneeze could take it out. But if Biel's recent birthday shout out to her husband is any proof, their love is still going strong.
Can we just take a moment to talk about the way they're holding and looking at each other? No one's that good of an actor — that's 100% pure affection and adoration right there. They look like the ad for a Hallmark movie instead of parents of a two-year-old. Do they have some sleep training secret they're not telling us?
In case the photo alone wasn't enough to make you sigh, the birthday message Biel captioned it with is sure to make you melt. "A picture says a thousand words. And thank goodness because there aren't enough to express ALL the aspects of my love and respect for you," she wrote. "Here's to a spectacular year ahead. I'm so proud of all you've accomplished and all that is ahead for you. Plus you're a super hot dad. A ninja dad. A kiddie teeth brushing, Jedi sleep mind tricking, intimidating dad voice disciplining SUPER HOT DAD. I love you, you hot dad.. I'm here, right by your side, OG fan girl #1. Happy birthday, my beloved. Now go crush it this weekend at SB LII."
Her words are super sweet, but not the usual social media sap that makes us want to roll our eyes and click unfollow. Raise your hand if your heart skipped a beat thinking about JT helping his kiddo brush his teeth and playing ninja. Move over, mental image of Justin with his Ramen noodle hair that comes to mind whenever you hear his name. You've been forever replaced by Hot Dad Justin.
Of course this isn't the first time Biel's been inspired to tell the world just how lucky she feels to be married to and raising a family with Timberlake. She sent him a virtual Father's Day card via Instagram, alongside a collage of photos with them looking ridiculously happy.
Perhaps one of the secrets to their happiness is giving what you get, because Timberlake also goes out of his way to shower his wife with online affection. From birthday wishes to Mother's Day shoutouts, he makes sure to tell her (and all his fans) how much he loves and appreciates her.
With a birthday message like this, we don't doubt that Timberlake had an amazing day celebrating. And if these posts are any indication of this couple's long-term but still steamy romance, we can't wait to see they have in store for each other (and us) come Valentine's Day.