New Mom Mentions Depression, Doctor Calls Cops To Escort Her To ER
by Cassandra Stone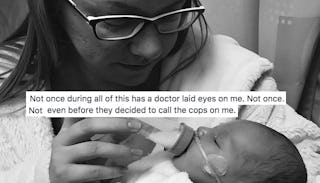 Image via Jessica Porten
Jessica Porten sought help from her doctor and was treated 'like a criminal' instead
Postpartum moms deserve the utmost care. From their partners, from their support systems, and especially from their healthcare providers. Unfortunately, receiving that trifecta of care isn't the reality for many new mothers. It certainly wasn't the reality for Jessica Porten, who gave birth to her second child, Kira, last fall.
Because her doctors completely failed her.
She says she wasn't able to get in to see her OB for her postpartum checkup until her youngest daughter was four months old "because they kept cancelling appointments." She knew she was struggling — as many, many postpartum moms do — with depression, and was proactive in seeking help.
What should have ended in a solution that equally benefitted both mom and baby ended up with Porten sitting with police. Alongside her infant. In the hospital. Against her wishes, for hours. She opened up about the entire ordeal on Facebook, where her post quickly went viral.
Once she finally saw a nurse practitioner, she told her everything she needed to. "I have postpartum depression that is manifesting in fits of anger, and I want to discuss my medication options," she writes. "I tell them I have a very strong support system at home, so although I would never hurt myself or my baby, I'm having violent thoughts and I need medication and therapy to get through this."
Porten says the nurse practitioner hurried her through the requisite pelvic exam, and left the room to discuss her PPD admission with a doctor. What happened next will absolutely infuriate you.
"They called the fucking cops on me."
Porten says a staff member had to sit with her for over an hour as they waited for the police to arrive to her doctor's office. "The cops show up and we're trying to figure out the logistics of how they're going to escort me to the ER because I have Kira and her car seat," she says. "The cops can clearly see I'm of sound mind and that this whole thing is bullshit, so they allow me to drive to the ER with Kira in my car while one cop drives in front of me and one follows behind. We arrive at the ER and I'm checked in, triaged, blood drawn. I am assigned a security guard to babysit me."
This story is what nightmares are made of. Porten's husband joined her and baby Kira at the emergency room where the humiliation continued. "They take me to the bathroom so I can give a urine sample. They make me remove all of my clothes and then take them away from me and lock them up. We missed dinner, so a nurse gives us two shitty little turkey sandwiches. I am not seen by a social worker until 10:45pm. She decides she does not need to put me on a psychiatric hold, and they process my discharge."
Through the afternoon visit at her OB's office through the entire stressful experience at the ER, Porten says she was never offered the option of consulting with an actual physician.
"Not once during all of this has a doctor laid eyes on me," she writes. "Not once. Not even before they decided to call the cops on me."
After leaving the hospital after midnight, Porten says her spirit was "more broken than ever." Here is a mom who had the awareness and courage to tell healthcare professionals that she was experiencing postpartum depression and was seeking help. She knew she wasn't a danger to herself or her daughter, but she needed help nonetheless.
"No medication, no follow up appointment, never spoke to a doctor. This was a 10 hour ordeal that I had to go through all while caring for my infant that I had with me. And that's it. That's what I got for telling my OB that I have PPD and I need help. I was treated like a criminal and then discharged with nothing but a stack of xeroxed printouts with phone numbers on them."
Porten tells Scary Mommy now that her post has gone viral, her focus has shifted from just telling her story to raising awareness to more marginalized people who may not have the same support system she has at home — specifically people of color and members of the LGBTQ community.
"We need to lift up our marginalized communities and make sure they are receiving the care that we ALL deserve so we can thrive as a united people.," she says. "No woman should have to suffer in silence for fear of having her children taken away. There needs to be systems in place to treat this extremely common condition (PMD) without traumatizing families or ripping them apart."
Porten requests anyone offering free services to mothers of color and LGBTQ parents is encouraged to use the hashtag #ActionForJessica on Facebook.
As for her doctor's office, she says no one has reached out to her since the ordeal. Regardless, Porten says she's humbled by the reaction to her story. "As far as the reaction to the post, I'm both amazed and overwhelmed," she says. "Viral fame never lasts long and I'm scrambling trying to use this platform effectively and efficiently to enact real change."
This article was originally published on