Amy Schumer Hilariously Calls Out Jessica Simpson In Post-Baby Weight Loss Pic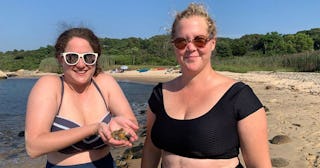 Amy Schumer/Instagram
Amy Schumer and Jessica Simpson's playful baby weight loss banter is everything
Feeling like your pre-baby self after giving birth can be hella liberating. What's even more liberating is women supporting other women's unique journeys to self-love no matter what those individual journeys look like. New moms Amy Schumer and Jessica Simpson just did a little of that on Instagram and it was totally adorable and not even a little bit catty.
It started when Simpson posted on Instagram last week, celebrating her 100-pound weight loss six months after the birth of her third child.
https://www.instagram.com/p/B2zTMbUA0YO/
Jessica had been extremely open, and relatable AF, about her body during pregnancy — right down to her ankles, which swelled significantly. Sharing that she was feeling back to herself had to feel good. She totally deserves to celebrate her body and how hard she worked to feel good about it.
https://www.instagram.com/p/B2P0lyygRVk/
Of course, Amy Schumer — another celebrity who is always incredibly open and real about her body, as well — saw an opportunity. Amy's baby is right around the same age as Jessica's. So, Amy just had to chime in to let Jessica (and all of her followers know) how her weight loss journey was looking.
"Ok Simpson!" she posted, clearly responding to Jessica's weight loss post. "Well ive lost 10 pounds and 100 dollars to my sister playing poker."
Hey, Amy! 10 pounds is totally something to toot your own horn about. Still, it was a hilarious and real way to point out that women's weight loss journeys can look completely different and it's totally okay. It should even be celebrated.
https://www.instagram.com/p/B1tYHe1JBTU/
Jessica commented on the post right away, letting Amy know she was doing pretty awesome.
"You're hot," she wrote. "Size only matters when it comes to men."
Well, there's a sentiment we can all get behind.
Both these women look beautiful. What makes them more beautiful is the fact that they are all about embracing themselves and exactly where they are in their respective new mom journeys. They are clearly not competing with one another. Hell, no. Amy And Jessica seem far more concerned with celebrating body love in general and it's a beautiful thing to see.