We Promise You're Not Ready For This Pic Of Jessica Simpson's Baby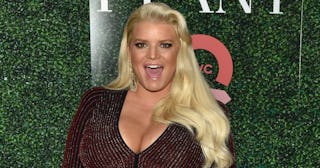 Eugene Gologursky/Getty Images
OMG, Jessica Simpson's newborn daughter will make your ovaries spontaneously combust
Jessica Simpson gave birth to her third child, daughter Birdie Mae Johnson, last month (after a very eventful pregnancy). And while she's shared a few glimpses of her youngest daughter here and there, the photo she just shared on her Instagram page might make you feel a detectable pang in your reproductive organs. Just saying.
"Rollin' into the weekend," Simpson captioned the post appropriately. Let's just say, if nothing else, Birdie Mae Johnson is deliciously edible.
Go ahead, take a moment to collect yourself. Those cheeks and rolls are basically begging to be smooched and that killer grin is almost too much to bear for a five-week-old infant. If you weren't prepared, it's okay. She's just that cute.
After delivering Birdie in March, Simpson didn't share many photos of her new family of five until Easter weekend. Basically, the entire Simpson-Johnson clan looks like if the Von Trapps sealed a deal with an ethereal indie clothing boutique. They're stunning, tbh.
I MEAN, COME ON.
If I wasn't already pregnant, this photo would have sealed the deal on adding to the family. There is truly nothing better than baby rolls.
Simpson was super candid about the trials and tribulations of her third pregnancy and often shared funny, relatable tidbits on social media. These trials include, but are not limited to: a broken toilet seat, not fitting between two parked cars, a bad bout of bronchitis, sleeping in a recliner because preggo sleeping is literally impossible, and the most painful-looking swollen ankles ever (that every woman in her third trimester can relate to).
The universe must have been aware of her gestational struggles and decided to reward her with 1.) a healthy, gorgeous baby who came in hot at nearly 11 pounds at birth; and 2.) the most powerful breastmilk flow/letdown a newborn mom has ever seen.
JUST LOOK AT THIS LIQUID GOLD.
I don't know about you, but I'm pretty sure I didn't get to five ounces until my child was four months old and I dumped in 20 minutes of pumping both boobs into one bottle. Kudos to Simpson and her milk ducts, which appear to be working overtime.
And for Baby Birdie, who might just be the reason for a minor baby boom in nine-10 months from now.